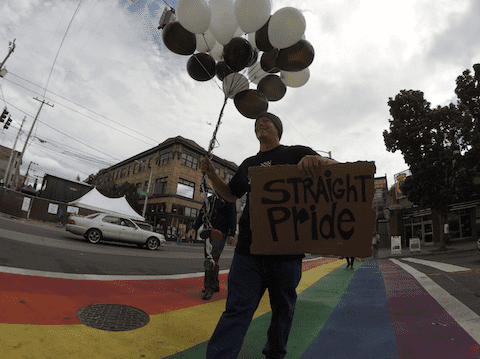 Blogger Anthony Rebello, known for calling gay marriage a "cry for attention," was the sole participant in a straight pride parade he created and held at Seattle's Capitol Hill Saturday reports The Huffington Post.
Rebello wrote a blog post on June 27, a day after nationwide marriage equality passed, for his website Smile Me A River calling same-sex marriage a distraction and money ploy:
"I think it's a trend. A cry for attention. From your government, a distraction. For $. I have previously stated how I feel about marriage in this post: MARRIAGE I have also created an event: Heterosexual Parade Gay Mafia? Maybe animals should be allowed to get married? Would they govern and tax them too? While they're at it, how about equal rights for insects? In my opinion, there is a difference between a man and a woman. If you can't appreciate those differences, you can't enjoy those differences. I don't agree with boys turning into girls, and I don't agree with girls turning into boys. The word/meaning of 'Pride' doesn't belong to the gay/lgbt community, it belongs to everyone. That includes us good old fashioned straight people. The way I see it, in my opinion, some boys never turn into men, and some girls never turn into women. What a shitshow. 'Welcome to the other side of the rainbow' Really? No thanks."
Although Rebello managed to get 169 participants to say yes to an initial Facebook invite of the event, Rebello was the only one marching on Saturday, holding black and white balloons along with a straight pride sign.
Poor bigot…
(Photo via Facebook)