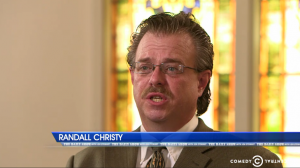 Over the past 17 years, Jon Stewart has used comedy to tackle a variety of societal problems: racism, sexism, homophobia, America's political illiteracy, etc. But with just one week left behind the Daily Show desk, Stewart decided to set his sights on a topic that doesn't get nearly as much exposure from the LGBT-loving national media's attention: anti-Christian discrimination.
In a segment that would have made Samantha Bee proud, Daily Show corespondent Jordan Klepper traveled to Eureka Springs, Arkansas to witness the debaucherous aftermath of the town's vote in May to approve an LGBT-inclusive nondiscrimination ordinance.
In the eyes of local pastor Randall Christy, his town has become a lot more gay and a lot less Christian friendly…he just doesn't know how exactly.