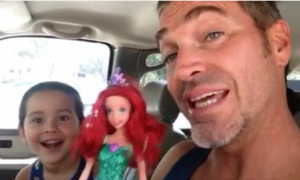 Need a reminder on what unconditional love looks like? Here it is.
Filmmaker Mikki Willis took his son Azai to the toy store recently to exchange a duplicate present he received for his 4th birthday. Azai chose a Little Mermaid doll as a replacement toy, leading the proud papa to film his reaction to the news.
"How would you feel if your son chose this??" the tagline to the video asks.
[fbvideo link="https://www.facebook.com/mikki.willis/videos/vb.100003029023137/771407246303569/?type=2&theater" width="480″ height="360″ onlyvideo="1″]