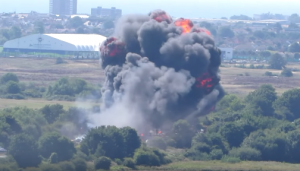 An air show in West Sussex, England ended in tragedy Saturday when a pilot crashed his plane into a major road, killing seven and injuring 14.
Pilot Andy Hill was attempting a loop-the-loop at the Shoreham Air Show in his Hawker Hunter jet but failed to pull out of the maneuver in time. Hill was rushed to the hospital, where police say he's "fighting for his life."
Police added that more bodies of victims may be discovered as the search continues.
The Guardian reports:
Dom Lawson was driving on the A27 [road] when the jet crashed. "If I'd been 20 seconds faster I would not be having this conversation," he said. He described how the plane passed just a few metres above his car with a deafening roar before slamming into the ground in a fireball just five or six vehicles in front. "It was like something out of Die Hard," he added.
Lawson said he saw at least two cars on fire but added that the incident could have been much worse if traffic lights at a nearby junction had not been at red.
Watch footage of the deadly crash below: