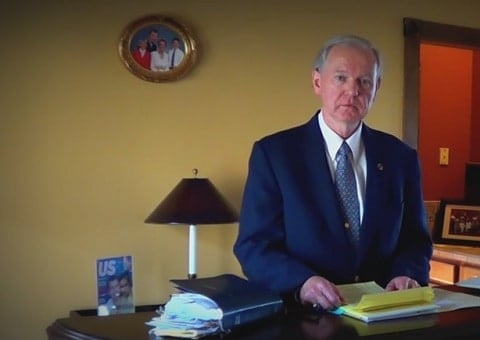 Christian Party Presidential hopeful Darrell Trigg has said that if elected to the nation's top job, he will ban homosexuality and make Christianity the official religion of the United States, reports Local8Now.
Basing his presidential campaign on "Christian values," Trigg said "homosexuality will not be recognized legally, or in any other manner, by the United States government or any state, city, or county government."
Predictably, he hopes to define marriage as a union between one man and one woman and force couples hoping to marry to attend a Christian marriage counseling course.
Trigg has also promised the faithful that he intends to make the Bible a standard required subject in all public schools and universities, increase the legal drinking age to 25, ban alcohol on college campuses, outlaw marijuana and jail people found guilty of adultery.
Watch Trigg's monotone campaign video below.
https://www.youtube.com/watch?v=wZmN63PDCu8