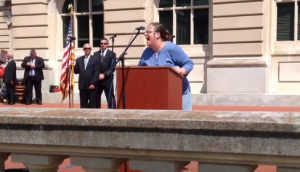 A rally in support of anti-gay government officials drew thousands to the Kentucky Capitol on Saturday, with Rowan County clerk Kim Davis being the star of the event.
"I desire your prayers," said Davis at the event organized by the Family Foundation of Kentucky. "Just continue to stand firm in what we believe. God is alive and He's on the throne."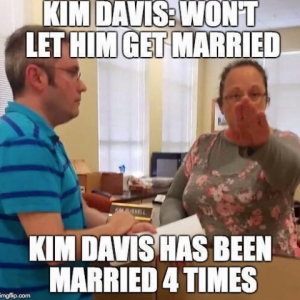 Davis was joined by two other county clerks in the state, Kay Schwartz and Casey Davis, who have both refused to issue marriage licenses to same-sex couples on religious grounds..
At times, the rally took on a political tone, with anti-gay clerks and GOP speakers railing against the state's Democratic leaders such as Attorney General Jack Conway who is running for governor and Andy Beshear, Gov. Steve Beshear's son who is running for attorney general this election.
Lexington Herald-Leader reports:
Republican Sen. Whitney Westerfield of Hopkinsville, who is running against Andy Beshear for attorney general, also called for an executive order from the governor.
He criticized Conway for not appealing to the U.S. Supreme Court a U.S. District judge's ruling that allowed same-sex marriage.
Rep. Stan Lee, R-Lexington, said four of the five U.S. Supreme Court justices who ruled in favor of same-sex marriages were appointed by Democratic Presidents Barack Obama and Bill Clinton.
"What did we expect?" Lee said.
He said it also was sad that some politicians are more concerned about removing the statue of Confederate President Jefferson Davis from the Capitol than the removal of God from this country's political systems.
A counter rally was held several blocks away, drawing several dozen pro-LGBT supporters.