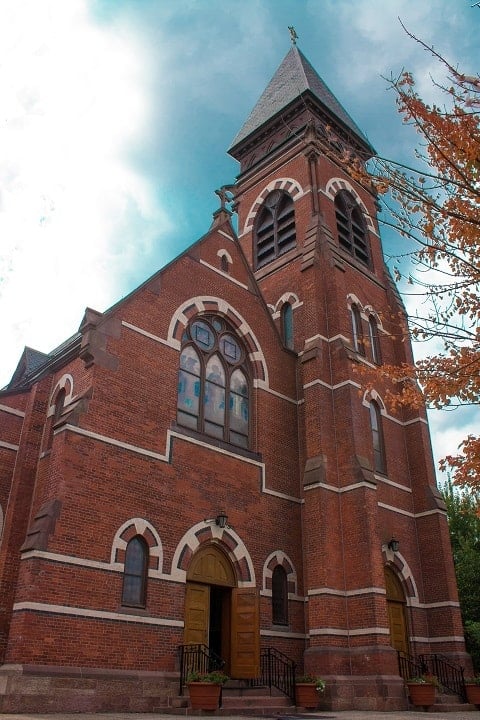 A New Jersey Catholic priest has defended raping a 15-year-old boy by claiming his victim "wanted" it, reports NJ.com.
Max Rojas Ramirez says Reverend Manuel Gallo Espinoza raped him in a bedroom of the rectory at St. Mary's Church in Plainfield (above) in 2003. Ramirez was an altar boy and a member of the parish's youth group at the time.
He said Espinoza attacked him after the altar boy confessed that he was confused about his sexuality.
Espinoza fled the country in 2003. Although he has admitted to raping Ramirez, he says he does not consider himself a "pedophile person."
In a series of emails, the priest wrote:
"I didn't force him to do anything he didn't want.
"One thing that I am conscious [of] is he was at that time a teenager, and it is a big mistake for me. He was older enough [sic] to walk away, but I think that I was attracted to him, that is the only explanation that I can think right now.
"He had something evil in his mind. He approached me many times.
'I made a mistake once and that was all. Being sincere with myself I decided to quit [the] priesthood by myself and start from zero and I did so.
"Since that moment because of that mistake I decided not [to] hurt anyone else and I began teaching.
"…Really in Ecuador a person at 15 years old is not consider [sic] so innocent.
"The explanation that I find to begin again with this incident after many years is 'EASY MONEY.'"
Espinoza also penned a detailed comment on the original NJ.com story which he shared on Twitter.
https://twitter.com/ManuelGallo11/status/629177971765563392
Ramirez has filed suit against the Archdiocese of Newark, arguing it was responsible for the priest's behavior and should have established stronger protections.
Although he was not questioned by police in 2003 because he could not be located, Espinoza is now the subject of a criminal investigation by the Union County Prosecutor's Office.
(Image via Twitter)