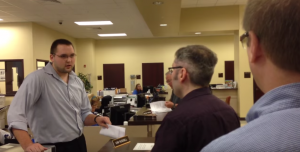 Earlier today, we reported that staffers in the office of Rowan County, Kentucky clerk Kim Davis were continuing to turn away requests for marriage license from same-sex couples despite a federal judge's ruling that Davis and her office must comply with the Supreme Court's decision legalizing same-sex marriage.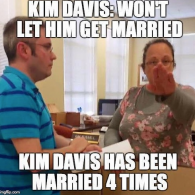 Davis, who became a viral video star after a clip of her degrading a gay couple in her office when they came in to get married hit the internet in July, is currently on vacation but her office has reportedly been told to continue to deny gay couples marriage licenses by the anti-gay Christian litigation group Liberty Counsel.
David Moore and David Ermold, the gay couple who were humiliatingly turned away in that viral video, were one of the two same-sex couples to apply for a marriage at the Rowan County office earlier this morning. They filmed the incident go down, which ended up being just as jaw-droppingly obscene this second time around.
https://www.youtube.com/watch?v=VEuZXrmMn7c&feature=youtu.be
Davis has filed a suit against Kentucky governor Steve Beshear whom she alleges violated her religious freedom by insisting she issue marriage licenses to same-sex couples.
Click HERE and LIKE our page on Facebook. Select "get notifications" in pulldown menu to receive our headlines in your feed.