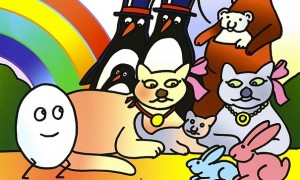 A gay-inclusive children's book centering on diverse families has found an unlikely ally in the ongoing censorship fight against it in Italy: Pope Francis.
Piccolo Uovo (Little Egg) by author Francesca Pardi tells the story of an egg's encounters with different family types: a pair of gay penguins raising a baby penguin, lesbian rabbits, a single parent hippo, and even a kangaroo that has adopted a polar bear cub.
Earlier this month, the book was placed on a "blacklist" by homophobic Venice mayor Luigi Brugnaro for its gay-inclusive themes.
The Guardian reports on a letter sent to Pardi from the Vatican praising the book:
"His holiness is grateful for the thoughtful gesture and for the feelings which it evoked, hoping for an always more fruitful activity in the service of young generations and the spread of genuine human and Christian values," wrote Peter B Wells, a senior official at the Vatican secretariat of state.
The letter, dated 9 July and recently seen by the Guardian, was a response to a parcel of children's books sent by Pardi to the pontiff in June. The collection from her publisher, Lo Stampatello, including seven or eight books which deal with lesbian, gay, bisexual and transgender issues (LGBT), was accompanied by a heartfelt letter from the author describing the attacks she has come under in recent months.
"Many parishes across the country are in this period sullying our name and telling falsehoods about our work which deeply offends us," she wrote. "We have respect for Catholics … A lot of Catholics give back the same respect, why can't we have the whole hierarchy of the church behind us?"
Pardi said she had not expected a reply and was surprised to receive the letter at her Milan home. "It's not that I think that he's for gay families, because there's the Catholic doctrine, but we mustn't think that we don't have rights," she said.
The Church is expected to address LGBT rights at the Pope's upcoming first visit to the U.S. next month, although whether it will be in a positive or negative light remains to be seen.