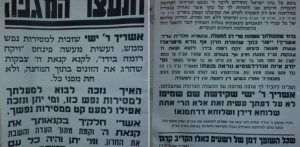 Posters praising last week's Jerusalem gay pride parade stabbing that led to the death of a 16-year-old girl have begun appearing in ultra-Orthodox neighborhoods throughout the city, The Times of Israel reports:
Distributed by an extremist group calling itself "The Faithful Judaism," the notices applauded the stabbing as an act of holy "self sacrifice."
"May all of the people of God be zealous as you," one poster read, as its authors expressed hope that similar acts would be carried out in the future.
Under the headline "And the Plague Shall be Stopped," another poster praised the deadly attack as an "act of Phineas," a reference to an Old Testament priest who personally executed an Israelite man and a Midianite woman while they were together in the man's tent, by running a spear through them both. His action is thought to have brought an end to a plague sent by God to punish the Israelites for sexual encounters with the Midianites.
Yishai Schlissel, the man who carried out the attack, is in police custody. He has already undergone a psychiatric evaluation and has been deemed mentally competent to face trail.
Schlissel was only recently released from a 12 year prison sentence for stabbing three people at a Jerusalem's gay pride parade back in 2005.
Editor's Note: A previous version of the post used a photo of signs condemning the attack.