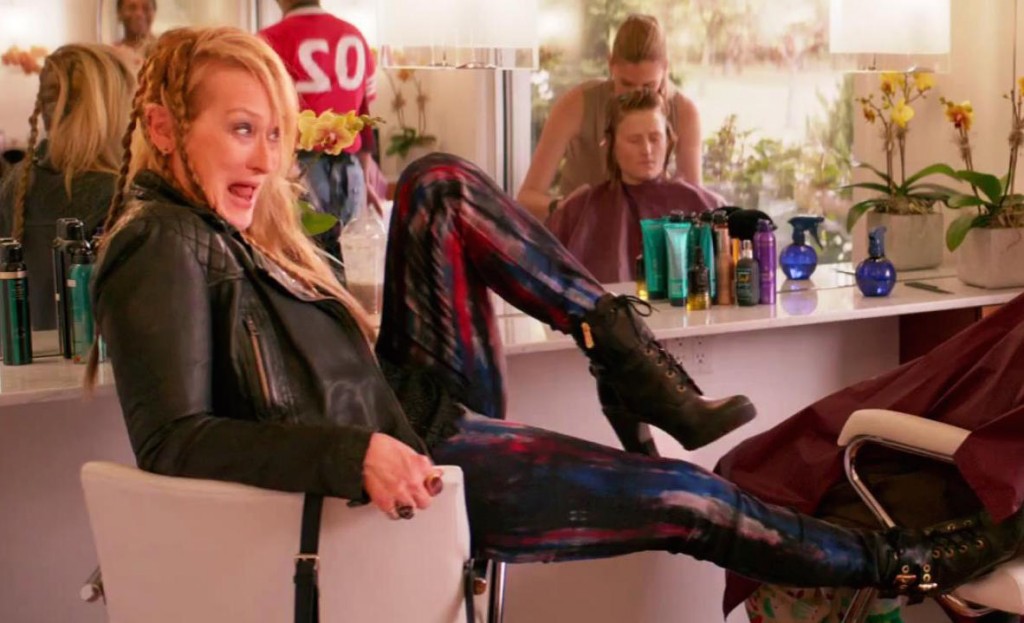 How does one act a hoarse voice? Short of screaming all night into your pillow before a key scene, as I've heard some actors do to simulate it, it's not something that's all that fakeable. This kept coming to mind watching Meryl Streep in Ricki and The Flash. Ricki Randazzo, her new aging rocker alter ego, sings/screams her lungs out all night with the house band of her local dive bar and works a demeaning low wage job all day. She doesn't take care of herself. Ricki's voice is hoarse for the entire movie. After admiring Streep's dedication to nailing a character you might want to say a silent prayer or offer a symbolic lozenge for her vocal chords if they did in fact receive torturous screaming abuse behind the scenes in order to sound just this way. What did they ever do to deserve this?
Whatever it was, the sacrifice was worth it, having given us Ricki.
It's hard to think of a similar character in the movies and original characters, particularly of the mature female variety, are rare unicorns and must be cherished when they appear. In other words, buy a ticket!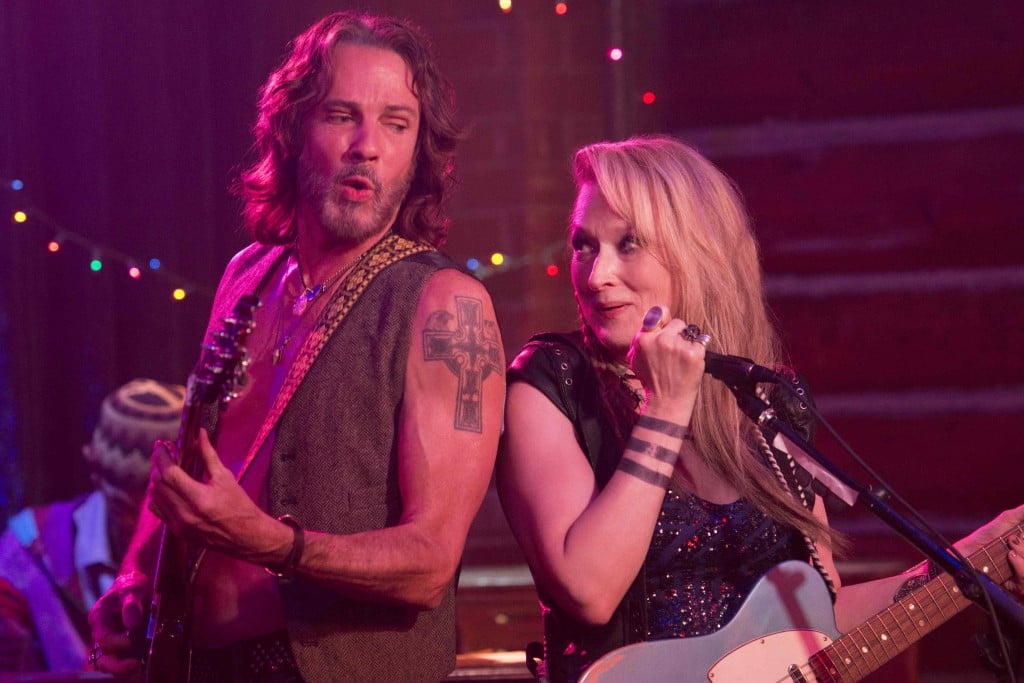 A bit of history: Ricki Randazzo (formerly "Linda Brummel") divorced her husband in the 1980s and along the way lost touch with her three children who were raised by their new step mom (Broadway musical legend Audra McDonald, perversely holding down her biggest movie role but not being the one who sings in a singing-heavy movie!).
Details of the family history are not important and the movie doesn't dwell on them except to demonstrate that abandonment issues and resentment abound. Ricki's gay son (Nick Westrate) won't speak to her due to her politics and the other son (Sebastian Stan) is vaguely embarrassed by her but smiles his way through her rare cameos in his life. Ricki has long since learned to live with her guilt and discomfort around her kids but an unexpected call from her ex husband (Kevin Kline — Sophie's Choice reunion coming atcha!) prompts her to spend her last dime on a plane ticket home to help her only daughter (Mamie Gummer, Streep's actual daughter) through an emotional crisis.
Can Ricki make amends? Will the family welcome her back? Will she get invited to her son's wedding? Will Ricki ever stop being her own worst enemy in her romance with her band mate (Rick Springfield)? You can probably guess all these answers but it's hardly a plot movie. It's all about the pleasure of seeing Streep commit to leather pants, elaborate upbraid ratty hairdos, and excessive accessories like rock and roll is her second skin, her dream, her oxygen, and her armor against the world which never got around to honoring her dream. It's all about watching "America's Greatest Living Actress" let loose and rock out a little.
Or a lot as the case may be. The movie is practically a musical there are so many numbers. In the middle of the picture there's absolutely too many of them consecutively like the film hasn't quite decided how to get to its final act and is just partying until inspiration hits. But at least few of them are quite effective, especially the two that count for the most including the rousing if predictable feel good finale. The other one, much earlier, is the film's quietest and most affecting moment, a late night on-the-verge of sleep conversation with her ex and her daughter when she sings them a song she wrote ("a long time ago," she says wistfully) called "Cold One" (Jenny Lewis wrote the song for the film). They're impressed with it, and Streep's guitar and song skills are impressive. In its own offhand subtle way the scene says something really atypical and generous about failure in America — it doesn't mean you didn't have the talent for success.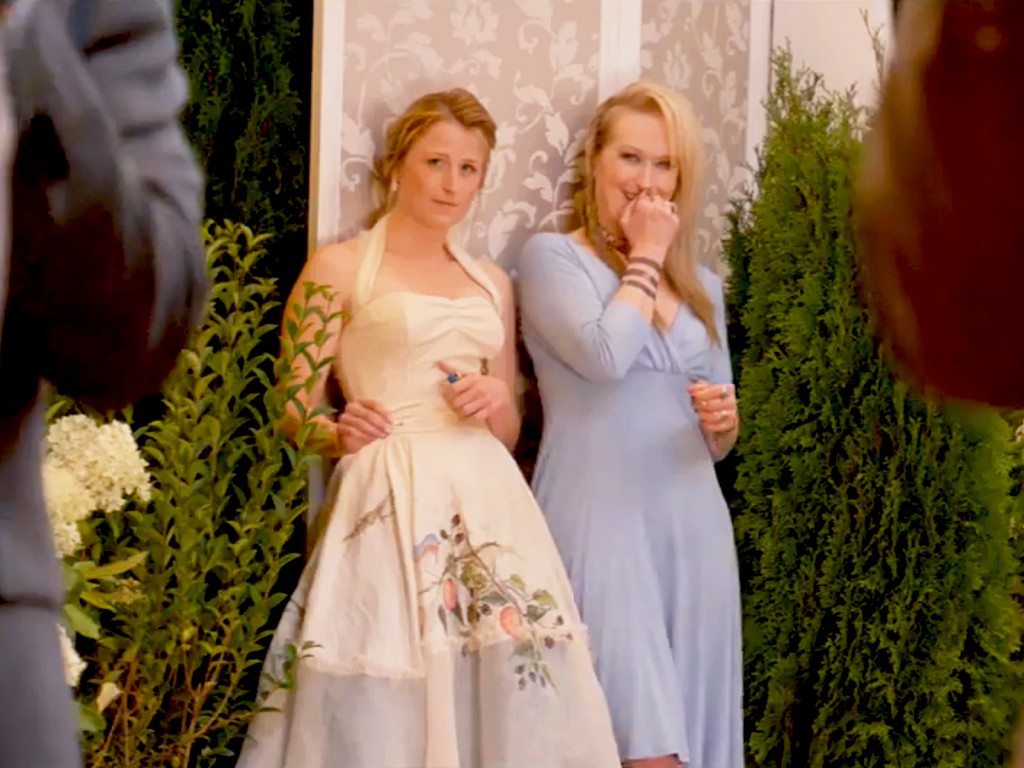 Ricki and the Flash is full of generous suggestions like this, that imply more than they actually say. One of the smartest is a prickly conversation with the ex when he conjures up an ancient argument and reminds her that he thought their little family was her dream. Her unsentimental reply "I can't have two dreams?". Like many of Demme's movies (Silence of the Lambs being something of a black sheep in his filmography), the movie is ragged, uneven, and sometimes inelegant but also human, idiosyncratic, lively and endearing.
In fact, it often feels less like a polished movie than a jam session between Oscar winners. Ricki and the Flash stars Streep and Kline (4 acting Oscars between them) and it's directed by Oscar winner Jonathan Demme (Silence of the Lambs) and the Oscar winning screenwriter Diablo Cody (Juno) cooked the whole story and character beats up. It's actually a relief to realize that the film isn't at all burdened by the communal weight of so many trophy shelves. Ricki and the Flash is, as a movie, closer to a garage band single than a high concept or over-produced album. And it's probably the better for it, even if the result feels a bit unfinished or slight.
Ricki Randazzo has not had an easy or a cushy life but an unfulfilled one as a perpetual never-was rock star. Her star vehicle is thus an unglamorous thin one. Unexpectedly, though, she's one of Streep's best characters in years. This may be an unpopular opinion but the last time Streep was Oscar worthy was in The Devil Wears Prada (2006). What's come inbetween Ricki and that late career peak as Miranda Priestley are a series of ALL CAPS star turns that feel more like elaborate FYC ads than fully authentic people (Doubt, Iron Lady, August: Osage County) and inbetween those strenuous films she's delivered a few "light" performances, technically less demanding but often pleasurable to watch (It's Complicated, Julie & Julia, Hope Springs… and now Ricki and the Flash). Guess which group of films Streep is doing better work in these days?
[youtube http://www.youtube.com/watch?v=kI2vkopgVXA?rel=0]
Nathaniel Rogers would live in the movie theater but for the lack of wifi, blogs daily at the Film Experience. Follow him on Twitter @nathanielr.