Lawmakers in Uganda are preparing to introduce legislation that could lead to any organization that advocates for LGBT rights being declared illegal.
BuzzFeed reports: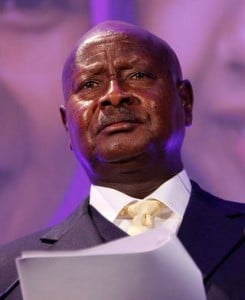 The proposal, known as the NGO bill, is about much broader issues than LGBT rights. It would expand the power of the government's current NGO Board, allowing it to ban non-governmental organizations for essentially any reason, including when a group's goals are "in contravention of the law" or if it is "in the public interest to refuse to register the organization." Any organization that doesn't register, which is how many LGBT groups currently operate in Uganda, would be considered illegal.
The timing — interrupting campaigning for primaries for spots to compete in the 2016 national election — suggests it is heavily motivated by political concerns. Civil society organizations are seen as strongly allied with the opposition coalition called the Democratic Alliance challenging the nearly 30-year rule of President Yoweri Museveni.
A similar anti-LGBT proposal was passed in 2014, although the law was later thrown out in court due to a technicality.
Want to stay up to date on LGBT rights in Uganda? Click HERE and LIKE our page on Facebook. Select "get notifications" in pulldown menu to receive our headlines in your feed.