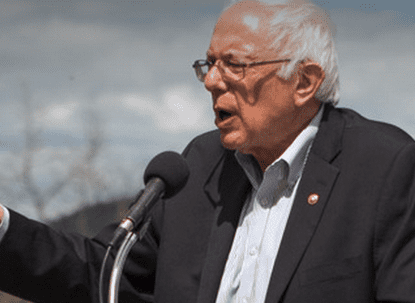 A new NBC News/Marist poll finds Sen. Bernie Sanders nine points ahead of front-runner Hillary Clinton in the Democratic primary.
In New Hampshire, the Vermont senator gets the support of 41 percent of Democratic voters, Clinton gets 32 percent and Vice President Joe Biden gets 16 percent. No other Democratic candidate receives more than 1 percent.
Back in July's NBC/Marist poll, Clinton was ahead of Sanders in the Granite State by 10 points, 42 percent to 32 percent, with Biden at 12 percent.
The poll also found Clinton's lead in Iowa dwindle. 38 percent of Democratic voters in Iowa back Clinton compared to 27 percent for Sanders.
On Saturday, Sanders suggested the Clinton campaign is "getting nervous" about him catching up.
"Don't tell anybody. I think what they know is that four months ago, when I entered this race, if you look at the polls, I was in 3 to 4%. Vast majority of the American people didn't know who Bernie Sanders was, they didn't know what my ideas were, and in last few months, we have amassed huge amounts of enthusiasm and huge amounts of energy," Sanders said. "So obviously, I think the secretary's people are getting nervous about the kind of energy and enthusiasm our campaign is bringing forth."