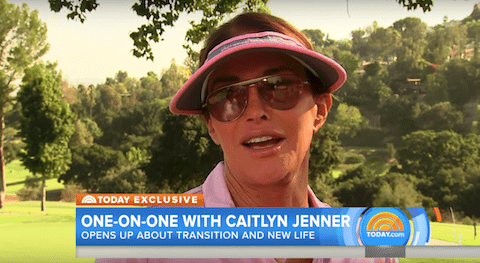 The Caitlyn Jenner Halloween costume rankled several trans activists on the potential offensive nature of the costume however, Jenner herself actually finds the costume amusing.
According to The Hollywood Reporter Jenner shared her thoughts on the costume with Matt Lauer during her golf course interview that aired on Wednesday's episode of Today, calling the costume great but had a few criticisms on a certain aspect of the costume:
"I don't think it's offensive at all. I know the community does and they've gotten a lot of criticism for doing it. I think it's great! To be honest with you, I think it's great! Except they could have a better looking outfit for her … We could have done our own costume. I mean that was a serious bustier on the cover of Vanity Fair. At least give her some better clothes. You've got to enjoy life. Life's too short. I can't get too upset about that kind of stuff."
However, Jenner admits that there's a line when it comes to humor and felt hurt by the public and late-night comedy hosts before she announced her transition to the masses:
"Back in the old days when all of the rumors were out and the media was destroying me, it was extraordinarily hurtful to me, to my family, for them, the late-night guys in particular … to make disparaging jokes."
Jenner currently has far more pressing concerns than a Halloween costume as she may face manslaughter charges and jail time for her fatal Malibu car crash back in February that killed one woman. 
Watch Jenner discuss transitioning, her car incident and the Halloween costume parodying here with Matt Lauer, below: