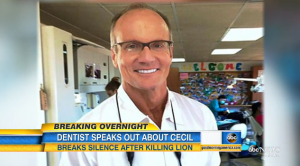 Walter Palmer, the Minnesota dentist who ignited a firestorm after killing Zimbabwe's beloved lion Cecil in July, is set to return to work tomorrow.
Palmer's announcement came in during an interview conducted by The Associated Press and the Minneapolis Star Tribune. It was his first public interview since the story broke.
"If I had known this lion had a name and was important to the country or a study obviously I wouldn't have taken it," Palmer said. "Nobody in our hunting party knew before or after the name of this lion." […]
An avid sportsman, Palmer shut off several lines of inquiry about the hunt, including how much he paid for it or others he has undertaken. No videotaping or photographing of the interview was allowed. During the 25-minute interview, Palmer gazed intensely at his questioners, often fiddling with his hands and turning occasionally to an adviser, Joe Friedberg, to field questions about the fallout and his legal situation.
Some have called for Palmer to be extradited to Zimbabwe, although no formal steps have been announced.
ABC Breaking News | Latest News Videos