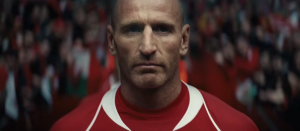 Welsh rugby icon Gareth Thomas, who came out of the closet in 2009, is the star of an new Guinness ad that centers on the support he received from his teammates during his emotional journey to self-acceptance.
"Every impact, every rib cracked, every bone broken – that was nothing compared to the demons that were tearing me apart," says Thomas in the video. "In my darkest hour, I turned to my teammates, telling them I was gay – that was the toughest thing I'd ever done."
Last week, rugby union star Sam Stanley came out as gay and cited Thomas as one of his role models.
https://www.youtube.com/watch?v=rBOTKSQ89M8
Thomas retired from rugby in October 2011.