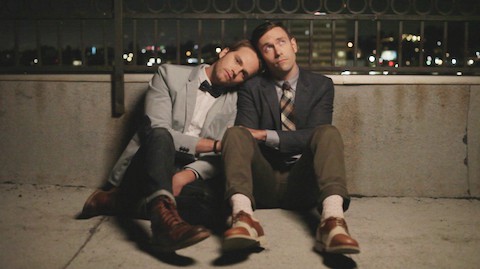 In its first season, web series EastSiders won over audiences with its thoughtful portrayal of a relationship in turmoil, steeped in realism and just the right amount of humor. With the release of three new episodes from the show's second season, EastSiders continues to explore the idea of connection with its signature depth and style. Now, however, the show's taking a much broader perspective.
That partially comes down to expanding the show's cast to include a wealth of fascinating new characters, as well as pushing the series' central couple, Cal (played by creator-writer-director Kit Williamson) and Thom (Van Hansis), into unfamiliar territory, including an open relationship.
But don't go thinking Williamson is out to create a morality tale. "I really wanted to tackle open relationships with irreverence and to allow it to be commonplace in their relationship," he said. "I think that a lot of people are worried about depicting LGBT characters as promiscuous or drunk or whatever the case may be, but I don't think the fact they're promiscuous or drunk makes them more or less interesting. It's just facts of who they are, and I wanted to approach characters with flaws and complexities as non-judgmentally as possible. I think we spend too much time judging each other."
We chatted with Williamson about the new episodes and what's to come for these characters. See what he had to say about the headspace that Cal and Thom each occupy, diversifying the cast, and his favorite scene of the season, below.
(WARNING: Spoilers ahead…)
Towleroad: How did you decide when you wanted to pick back up with these characters in terms of their timeline?
Kit Williamson: I knew that I wanted some time to have passed, because to step right back into the same headspace the characters were occupying at the end of season one would've felt like rehashing the same storyline to me. They needed some time to get past what had caused things to fracture in season one. I wanted them to deal with an entirely new set of relationship issues beyond simple jealousy.
TR: We're seeing a lot of of secondary characters from the first season back in much richer ways, and we're seeing even more additions this season. What was the impetus for wanting to expand this world?
KW: It was useful for me to imagine what these characters were doing, because it helped flesh out the world of these friend groups and these people to know about Jeremy's sister, Bri, for example. And Brea Grant, who plays Bri, makes a very brief appearance as a pot-smoking confidante for him in season one. In part, Brea is a great friend of mine and an incredible actress, and I welcome any opportunity to write anything for her. It was fun for me to imagine where Jeremy would go if he hit rock bottom, and the first thing I thought of was his successful lesbian sister's house. That's where I would go if I had a successful lesbian sister and my life fell apart. I would love to be her au pair.
TR: With the addition of these characters, we're also seeing a lot more diversity in the cast this season. As someone in the position of writer, director and executive producer, how conscious were you of telling diverse stories?
KW: You know, I always wanted to honor the diversity of the neighborhood as much as I could. Knowing that I'm still on a very limited budget, I don't have access to the same casting process that a show on HBO does, for example. Working with the resources that you have is important and so is looking outside your own social circle as much as you can. We definitely had a much, much richer pool of diverse talent to choose from in season two, and I wanted to take advantage of that, because the neighborhood is really diverse. We definitely got some feedback on the first season that it wasn't as diverse as some people would like, and that's something I agreed with. I had wanted to represent a wider array of people, but I really only held a casting for one role in season one. We were able to cast additional roles in season two and to keep an eye out for diversity in a way that I hope feels truthful to the show and enriches it.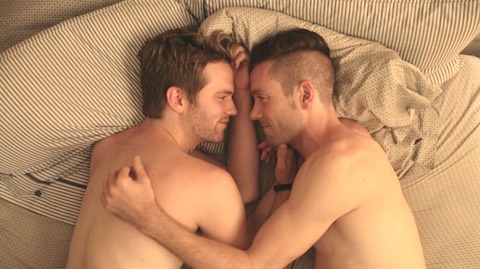 TR: Something else that makes the show really special is the way you structure the story. You play a lot with time, jumping backward, jumping forward. What is it about that device that you're attracted to in terms of storytelling?
KW: I think the way that we remember events and the way it actually happened is very rarely accurate. Especially in season two, I wanted to play with the idea that maybe Cal, for example, has a distorted memory of how things went down and how much agency he actually had in his decision-making process. More than anything I think that the journey to the consequence is as interesting as the consequence of an action. I enjoy playing with time and seeing what headspace people were actually occupying as they were f*cking up their lives.
TR: Of course, season two also begins with a time jump, moving forward in time a bit from where we last left folks in season one. What can you tell us about what's going on in Cal and Thom's headspaces when we join them?
KW: I wanted every character to have a radically different experience and journey than they had in season one. For example, Jeremy is this sexy, mysterious woodworker in season one, if you catch my drift. In season two, he's really hit rock bottom and he's living with his lesbian sister and taking care of her kids. There are not a lot of things less sexy than that, smoking pot while the kids are upstairs watching television. Similarly, Cal and Thom had a very traditional relationship before things broke apart between them in season one. I didn't want to explore the same kind of ideas of connecting, because I think there are so many ways that people connect with one another, and I'm not here to argue for one over the other. I think that their attempts at opening up their relationship are just as fraught and perilous as their attempts at monogamy were, because they weren't communicating openly and honestly with one another. Despite the openness of the relationship in season two, they have some of the same issues. With all of the characters, the need to connect with one another and the way in which we misfire when we communicate what we want and need in relationships is the central subject.
TR: Personally, I ship Kathy and Ian pretty hard, and things are not looking so great for them when we join them. What can you tell us about where they're at in their relationship when we pick up in season two?
KW: In season two, Ian has finally reached his breaking point with Kathy. Kathy is the type of person that likes to test the limits of people's patience with her, almost as a sport. It comes from a really deep, profound insecurity and fear of getting rejected and hurt. She wants to make you reject her so that you don't come to the conclusion that she's not worthy based on her intrinsic nature. I know a lot of people like that and I can relate to that, personally. We all sometimes lash out at people we really care about because we're afraid of them rejecting us, so we de facto make it happen. For Ian, I think he's finally at his breaking point, and we're about to see a very different side of Ian as he starts to play the field and embrace a not-so-nice-guy Ian.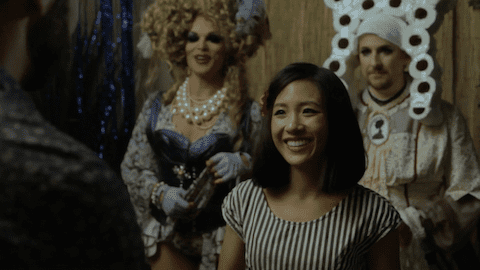 TR: I'm really excited about the blossoming relationship between Quincy and Douglas. What is it about Quincy's character that you wanted to explore more?
KW: First, I wanted to give Stephen Guarino more screen time because he's a comedic genius, and he's such a joy to write for. When we had the opportunity to bring Willam into the cast, I knew I wanted to see Willam both in and out of drag. So, that kind of becomes the central conflict in their relationship, trying to figure out who they are to one another when they're not performing. Because they meet each other in a professional context as being these loud, crazy characters that work together promoting parties, there's that question of what is normal, which is one of those questions at the heart of this season, as Quincy kind of expresses a desire to have more of a traditional relationship with his eccentric, fabulous drag queen boyfriend.
TR: A lot of the dialog feels so natural. How much of it is improv, or how much of that character building is collaborative with the actors?
KW: There is definitely some improv in the show, because I personally am not precious about my dialog. I just want whatever's truest for the actor, whatever comes out of the moment. I will always choose the truth of the moment over my own words. There's actually not that much improv in the actual series. Definitely, Stephen and Willam have some great improv, and, honestly, any time there's a large group scene, I give everyone free reign to throw in ad libs and moments, because it doesn't make sense that everyone stands around taking turns as they talk, because people rarely do that in life.
TR: That sounds very different than what you hear about working on Mad Men, which is very particular. What from working on Mad Men did you bring to working on EastSiders?
KW: Working on Mad Men and getting to see how that set works was really educational for me, because it gave me something to work toward, something to strive toward, in terms of how you organize a set and the fastidiousness and attention to detail that every single person on that set brings to their very specific job. It couldn't be more different though from what we have to work with. We have, for six half-hours of television, less of a budget than five minutes of a show like Mad Men or Looking. Obviously, everyone's running around doing 30 people's jobs, but trying to act as though the stakes are that high, as though as much money is changing hands as on a show like Mad Men or Looking is a real challenge. It helps you to make the show greater than the sum of its line items in the budget.
TR: From these first three episodes, do you have a favorite scene?
KW: Probably the brief scene, shot in one shot, with Quincy and Douglas, when Quincy comes in to use the bathroom in the club and Douglas makes his interests known and asks him for molly.
[vimeo 139498413 w=480 h=270]
TR: Any other tidbits you can reveal about what's to come in the back half of the season?
KW: I would just say that anybody who's concerned that this is an argument for promiscuity should stay tuned and check out the consequences that befall some of the characters. Let's just say that we have the entire cast of Gayby working as the staff of an STD clinic.
TR: Have you already started thinking about season three?
KW: I do have an idea, and it's a really good one. For now, I just have to put one foot in front of the other and get through our launch on Vimeo, and then the release of the DVD and launch on other digital platforms in November. Then, hopefully, I'll have time to come up for air and start writing.
The first three episodes from season two of EastSiders are now available on Vimeo On Demand.