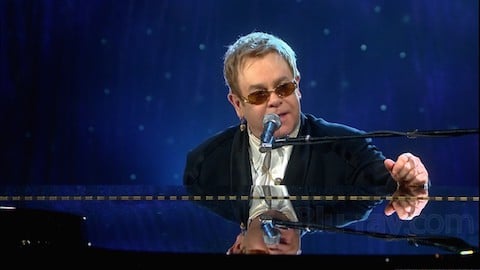 When it comes to gay icons, few can hold a candle to Sir Elton John. The openly gay pop legend has been making music for more than half a century, including more than 50 Top 40 hits. So it's not surprising he was voted the top male gay icon in a 2009 poll.
That's just the tip of the iceberg for the flamboyant composer and pianist. Of his more than 30 albums released to date, he had seven consecutive No. 1 albums in the U.S. He's achieved nine No. 1 singles, including one of the biggest selling singles of all time, "Candle In the Wind 1997," which sold more than 33 million copies worldwide. From 1970 until the year 2000, John had at least one song in the Billboard Hot 100 every year. With such a massive collection of hits, it's hardly any surprise that he's been an inspiration for many contemporary gay performers, like Adam Lambert, Mika and Bright Light Bright Light.
He hasn't just left his mark on music history, though. He's been an outspoken advocate for LGBT rights and a powerhouse supporter of HIV/AIDS prevention and support services. His Elton John AIDS Foundation has raised more than $200 million worldwide, including funds raised from his Academy Award Party.
However, that same outspoken personality has landed him in some trouble. He initially came out favoring "civil partnerships" for same-sex couples (though he would later come out strongly for full, equal marriage). He ran afoul of the LGBT community for performing at anti-LGBT commentator Rush Limbaugh's fourth wedding in 2010. (He explained the choice saying: "I got on with him very well, got on very well with his wife. I don't have the same politics, but that doesn't really matter. And I think this year I can start to put things in motion by trying to get him on my side.") Plus, there was that time he got into a row with fellow gay icon Madonna.
Below we've compiled just a few of our favorite Elton John clips.
John's self-titled second album contained his first Top 10 hit, "Your Song." Written with his longtime collaborator Bernie Taupin. John Lennon described it as "the first new thing that's happened since [The Beatles] happened."
https://www.youtube.com/watch?v=lmVlcCPX9YE
Another one of John's signature songs is "Rocket Man," off his 1972 album, Honky Château. It would be his first No. 1 album in the U.S., and the first of seven consecutive number one albums. He would perform "Rocket Man" in 1985 at Live Aid in Wembley Stadium. Check out his performance above.
John's impact extends beyond pop music. He took home the Academy Award for Best Song at the 67th Academy Awards for "Can You Feel The Love Tonight" from The Lion King. He wrote the music for the beloved Disney film with Tim Rice. The song also earned John a Grammy. He would go on to compose the music for the stage adaptation of The Lion King and later Aida, which would earn John a Tony Award for Best Original Score at the 54th Tony Awards.
Originally inspired by the death of Marilyn Monroe, John recorded "Candle In the Wind" for his 1973 album, Goodbye Yellow Brick Road. Following the death of John's friend Diana, Princess of Wales, he re-wrote and re-recorded the song, releasing it as a single. The song was the first to be certified Diamond (selling more than 10 million). He only performed the live version once, at Diana's funeral, and it was never released on any other follow-up albums. It is commonly referred to as "the best-selling single since UK and US singles charts began in the 1950s." (Bing Crosby's "White Christmas" is considered the best selling single of all time, but was released before modern-day singles charts.)
https://www.youtube.com/watch?v=MzIZ7dE3AaM
At the 43rd Annual Grammy Awards, Eminem was faced with protests over his homophobic lyrics on his acclaimed The Marshall Mathers LP. In response, he performed his track "Stan" along with John. GLAAD still said they were "appalled" by John's choice to perform with Eminem, but the two artists remained close. Eminem would describe their relationship to the Detroit Metro Times in 2009 as "I talk to Elton a lot. We became friends and I talk to him about things, career wise. And he had a substance abuse problem in the past. So when I first wanted to get sober, I called him and spoke to him about it because, you know, he's somebody who's in the business and can identify and relate to the lifestyle and how hectic things can be. He understands like the pressure and any other reasons that you wanna come up with for doing drugs, you know. Me and him have had similar lives and stuff. So I reached out to him and told him, 'Look, I'm going through a problem and I need your advice.'"
What's your favorite Elton John song?
Get Towleroad Headlines Daily.
News daily from one of the most trusted, independent, lgbtq owned and operated media outlets. Covering news, entertainment, science, media, art and more for almost 17 years.