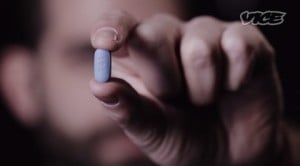 In a first-of-its-kind legal challenge, the Gay & Lesbian Advocates & Defenders (GLAD) filed a claim last week against an insurance company for denying a gay man long term care insurance because he's on Pre-Exposure Prophylaxis, or PrEP.
The man, identified only as John Doe in the complaint, alleges he was discriminated against by Mutual of Omaha because he's gay and on Truvada, which is a form of PrEP.
"I thought maybe they misunderstood me," said Doe in an interview with The Associated Press. "I'm HIV-negative. I'm not HIV-positive. I was taking Truvada as a prophylactic." Doe says he began taking Truvada about a year ago after discussing it with his doctor.
"I lived through the Holocaust of people dying from AIDS," he said. "I was doing my little part to stop that."
The AP reports:
He said he received a letter in April from a chief underwriter for Mutual of Omaha denying his appeal. "We do not offer coverage to anyone who takes the medication Truvada, regardless of whether it is prescribed to treat HIV infection, or is used for pre-exposure prophylaxis. This in accordance with our underwriting guidelines," the letter said, according to the complaint.
Doe alleges that Mutual of Omaha discriminated against him based on sexual orientation and disability, in this case, an assumption that Doe will in the future contract HIV, a health condition covered by the state's antidiscrimination law.
"Mutual of Omaha's denial is nonsensical," said Bennett Klein, Senior Attorney and AIDS Law Project Director at GLAD in a statement. "If our client were not taking Truvada, not protecting his health and the health of others, he would have received the insurance. We should be well beyond the days when insurers make decisions based on fear and stereotypes about HIV. The assumption is that gay male sexuality is inherently risky and unhealthy, and that's just wrong."
Mutual of Omaha has declined to comment on the case.
Read Doe's complaint below: