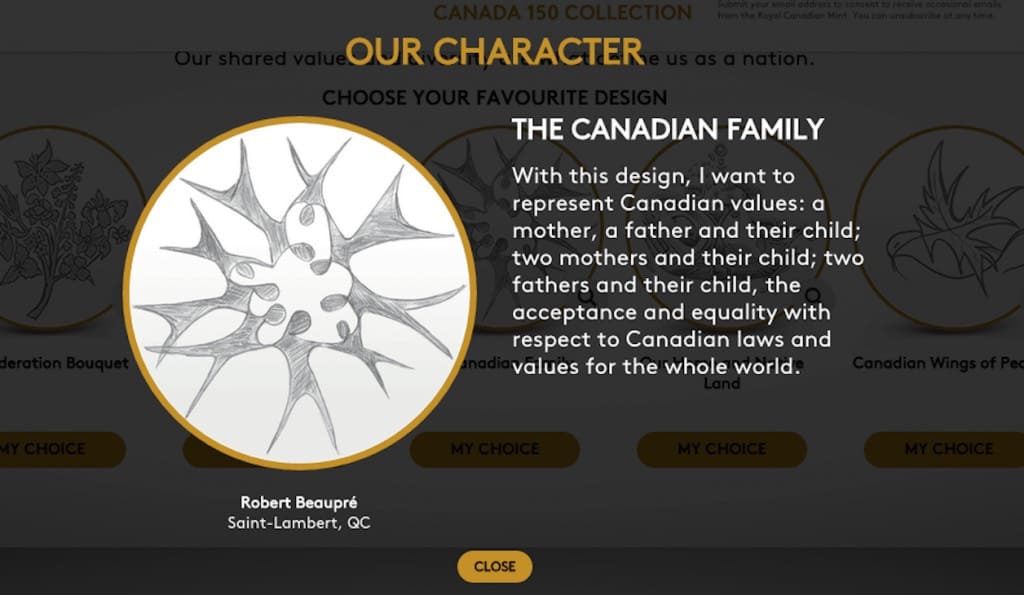 By Julie Masis
MONTREAL, Quebec — What do you see on Canada's new coin design?
At first glance, it might look like a happy group of adults and children dancing in a circle. But fashion designer Robert Beaupre, who sketched the image, says he wanted to represent gay and lesbian parents and their children.
"It's a unique opportunity to represent Canadian values," Beaupre says. "Canada is a very open country, that doesn't imprison people because they are gay. That's what inspired me."
The drawing is one of five finalists in a coin design contest to commemorate Canada's 150th anniversary in 2017. Internet users can vote for their favorite design on the Royal Canadian Mint's website until Oct. 9.
If Canada picks Beaupre's "Canadian family" design, he hopes "no one in school will be able to say, 'How can you have two fathers or two mothers — how can it be?'"
He's up against a dove carrying a maple leaf in its beak (representing "Canadian wings of peace"), a bouquet of flowers, an aboriginal fish, and hands pressed together to form a maple leaf.
Beaupre, a women's fur coat designer from Montreal, has been with his husband for 41 years. They've tied the knot three times: first in Vermont when civil unions became legal, then he and his husband were the second gay couple to officially get married in Quebec in 2004, and they renewed their vows again when gay marriage became legal across Canada.
Canada legalized same-sex marriage nationwide 10 years before the United States — in 2005. It was the first country outside of Europe to do so.
Beaupre says he was very lucky to meet his husband when he was still a teenager.
"We are the couple who stayed together longer than anyone in my family," he says.
Had adoption laws for gay and lesbian couples changed earlier, Beaupre says he would have liked to raise a family.