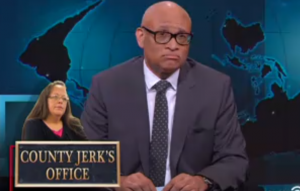 Nightly Show host Larry Wilmore took "county jerk" Kim Davis to task Monday night for continuing to cash in on her $80,000 a year salary despite vowing to no longer do one of her chief responsibilities as county clerk: issue marriage licenses.
Said Wilmore:
"So you're telling me Kim Davis is collecting a government paycheck in order to sit around and let everyone else do all the work? I thought we called people like that 'welfare queens'".
Later in the show, Wilmore "interviewed" the anti-government militia that vowed last week to stop U.S. marshals from arresting Kim Davis again.
Like Larry Wilmore? Click HERE and LIKE our page on Facebook. Select "get notifications" in pulldown menu to receive our headlines in your feed.