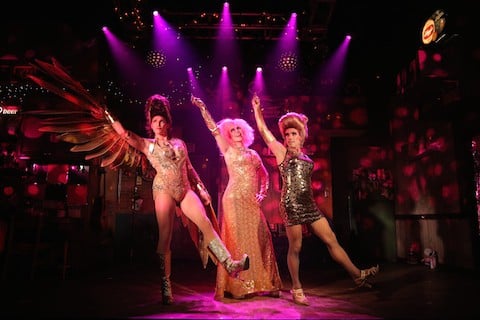 You may not expect to find a beginners' lesson in female impersonation on Christopher Street — that hard-won, sequin-strewn stomping ground of drag veterans — but, that's just what you'll get from The Legend of Georgia McBride, a campy new comedy by Matthew Lopez that opened last night at the Lucille Lortel Theatre.
In the MCC production directed by Mike Donahue, drag virgins with any trepidation can expect a palatable intro to the form, one that tickles audiences with a greatest hits of kitschy clichés, and is primarily designed to convince Joe Flyover State that a straight dude putting on a dress and lip-syncing for money is, like, totally chill, bro.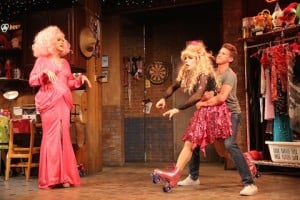 The dude in question is Casey (Dave Thomas Brown), an Elvis impersonator struggling to attract eyeballs and cash at a rickety, backwater Florida dive. He and his wife, Jo (Afton Williamson), are behind on rent and, we soon learn, expecting a baby. When the bar owner's cousin, Tracy (Matt McGrath), swoops in to try saving the place with a drag revue, it looks like Casey is out on his ass. That is until Tracy's second banana, Rexy (Keith Nobbs), passes out drunk before her big Edith Piaf number. Guess who's loitering backstage still mourning his act, and happens to wear the same size LBD?
What follows is the birth of Georgia McBride, and her evolution from a reluctant, bumbling guy in a dress to an energetic, confident drag queen. The process is fun to watch (at least for a while), and fortunately for us, Georgia's got a bang-up teacher in Tracy. McGrath conjures up a consummate drag persona, by turns wisecracking and sweet, drolly jaded and warmly encouraging. Tracy helps Georgia become a better drag queen, at first from necessity (the show must go on!) and then from a sort of kinship (sisters are doing it for themselves!). One of the duo's medleys in particular will have both Broadway and country music queens LOLing in the aisles — what comes between them may not lead you to the edge of your seat.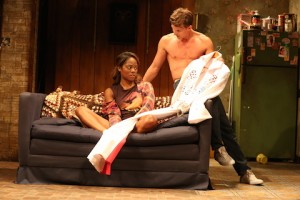 The catch is, Casey hasn't told his wife about the new gig. The anticipation of this bomb-drop and its consequences turns out to be the play's only real catch. Does Casey learn any eye-opening lessons about courage, acceptance, or being true to yourself without apologies that he can impart to his wife, or to anyone? Well, kinda. He definitely did it for the money, before realizing he also loves the escape, the make-believe, and, of course, the applause. What about the fact that he didn't tell her because he "felt like a fag?" Since neither Tracy nor Rexy appear to be very sexual (or, even actual people outside of their drag personas), there's no real threat to heteronormativity here, and so that question goes unanswered.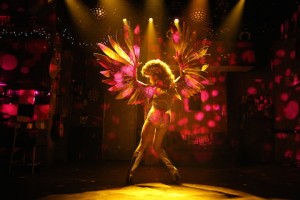 There is one glimmer of someone whose mind might be opened by all of this, and that's Casey and Jo's landlord, Jason (also played by Nobbs). Overhearing Casey's big reveal, he waxes nostalgic for a "gender nonconformist" he dated once, who it turns out was a transgender woman with genitals that matched his own. The idea that he could have built a life with her, because "the heart wants what it wants" (a line lifted from Emily Dickinson or Selena Gomez, depending on your tastes), unfortunately turns into yet another punch line — one that may land, but definitely doesn't sit well.
Recent theatre features…
Hip-Hop Juggernaut 'Hamilton' Opens on Broadway: REVIEW
'The Absolute Brightness of Leonard Pelkey,' By Trevor Project Co-founder James Lecesne Opens Off Broadway: REVIEW
Looking for Love in a Straight-Girl World, 'Significant Other' Opens Off Broadway: REVIEW
'Fun Home' and 'Curious Incident' Mark Big Wins for Women and Brits: 2015 Tony Awards Roundup
Alison Bechdel's Graphic Novel Comes to Broadway in New Musical 'Fun Home': REVIEW
Follow Naveen Kumar on Twitter: @Mr_NaveenKumar (photos: joan marcus)