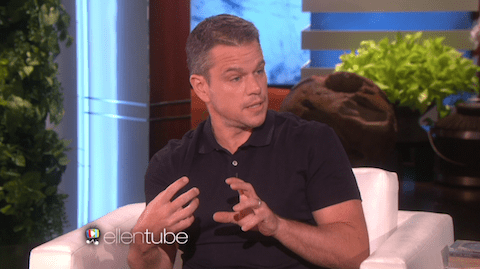 Actor Matt Damon appeared on Ellen and took the time to clarify his comments from a recent interview with The Guardian which angered quite a few people. Damon's original comments seemed to suggest that gay actors should stay in the closet in order to be more successful:
"I think you're a better actor the less people know about you period. And sexuality is a huge part of that. Whether you're straight or gay, people shouldn't know anything about your sexuality because that's one of the mysteries that you should be able to play.'"
DeGeneres invited Damon on to clarify his comments. Damon explained that his comments were misconstrued by the media, citing the gay rumors that tabloids circulated in the past regarding Damon's close working relationship with Ben Affleck as the media taking words, and actions, out of context.
"I was talking about actors are more effective when you know less about their personal lives. And was talking about it in the context of when Ben and I first started and people wrote all these articles, when Good Will Hunting came out, that we were gay because it was two guys who wrote the script. And feeling like oh, well we can't even like then you have to address it and then it's like well I'm not gonna throw my friends under the bus, who are gay, and act like it's some kind of a disease. How do you even address it?"
He added:
"So you're always in these kind of weird things. But in this day and age I said this thing to The Guardian and it got turned into… and I was just trying to say actors are more effective when they're a mystery. Right? And somebody picked it up and said I said gay actors should get back in the closet. Which is like I mean it's stupid, but it is painful when things get said that you don't believe. And then it gets represented that that's what you believe. Because in the blogosphere there's no real penalty for just taking the ball and running with it. Ya know what I mean? You're just trying to click on your thing."
DeGeneres also adds some levity to the conversation. Watch:
Fan of Towleroad? Head over here and join us on our page!