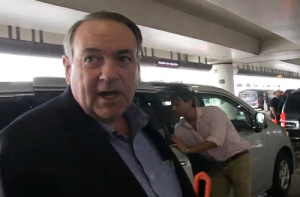 Mike Huckabee was quick to take credit for snatching up Kim Davis right out of jail and using her as a political prop for his presidential campaign, but apparently he has nothing to do with the music selection at his anti-gay rallies.
"I didn't pick it I had nothing to do with it," said Huckabee when asked by TMZ why he chose Survivor's "Eye of the Tiger" at the rally for the lawless clerk last week. As we reported recently, the band's frontman Frankie Sullivan is furious that their hit song was played as Davis mounted the stage.
"I would not grant her the rights to use Charmin!" he wrote on Facebook
.
Want to stay up to date on Mike Huckabee and the rest of the anti-gay nuts? Click HERE and LIKE our page on Facebook. Select "get notifications" in pulldown menu to receive our headlines in your feed.