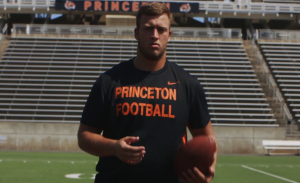 Mason Darrow, a freshman offensive lineman for the Princeton Tigers, has come out publicly as gay in a terrific feature story by Outsports' Cyd Zeigler.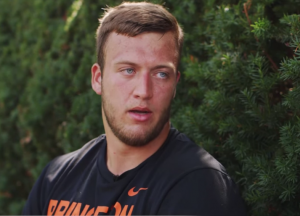 "People will surprise you. I mean I was definitely concerned that teammates would react very poorly," said Darrow in the accompanying video. "I think in this day and age people don't really care about it. It's really not a big deal anymore."
Darrow, who first came out to a fellow teammate back in November, said his announcement has been warmly received by teammates, coaches, and his family.
"I feel like I'm at a really great place in my life, everything has been going well since I came out here and at home," he continued. "Now I want to show people that you can be gay and play division 1 football and if that's going to help some sophomore in Arizona come out to his teammates and be comfortable being himself then that's the reason I'm doing it."
Check out Darrow's interview below: