Jerrold Nadler (D-NY) and Kirsten Gillibrand (D-NY) will be among dignitaries on hand at a 2 pm rally outside the Stonewall Inn in NYC's Greenwich Village that will call for the historic bar, seen as the birthplace of the modern LGBT rights movement, to be designated a National Park site.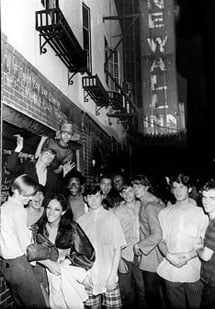 Say the organizers: "There are more than 400 national parks in America, two-thirds of which are dedicated to sites of cultural and historic significance.  In Seneca Falls, New York, Women's Rights National Historical Park tells the story of the first Women's Rights Convention held there in July 1848. The Selma to Montgomery National Historic Trail in Alabama traces the march led by Dr. Martin Luther King Jr. in the struggle for civil rights. A national park for Stonewall would tell the story of the LGBT community's fight equal rights in America."
Said Nadler to the Washington Blade:
"The National Park Service, through national monuments, through national battlefields, all kinds of national things, illustrates the story of this country. It's important to expand the diversity of this story presented by the National Park Service, in this case, to present the story of the struggle for civil rights of LGBT Americans. There is nothing in the National Park System that deals with this, and that's a huge omission in terms of the history of this country, the history of this struggle and the ongoing struggle for human rights."
The Blade adds:
The U.S. government already designated the privately owned Stonewall Inn in 2000 as a national historic landmark, but that's considered a lower-tier designation given to 2,500 sites throughout the country. Last year, the Department of the Interior announced it was undertaking a theme study to examine ways to incorporate LGBT stories into the the National Park Service. The new effort to have a national monument dedicated to the Stonewall Riots shares a similar goal, but is separate and distinct from the agency-led initiative.
President Obama, under the Antiquities Act, would be able to authorize such a designation. The other option is to have Congress do so through legislation.