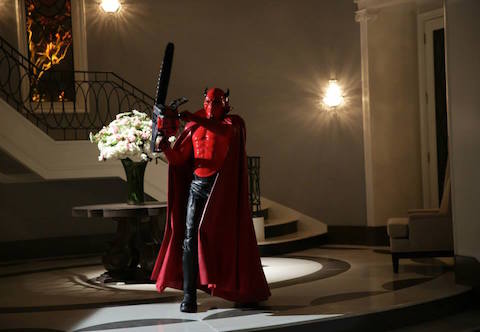 Ryan Murphy is many things, but subtle is not one of them. Last night's episode of Scream Queens, titled "Chainsaw," surely delivered on its name, and it crammed in so many obvious red herrings, I think it qualifies as an aquarium.
The great thing about Scream Queens (which, while enjoyable, I'd hesitate to call great in its own right just yet) is that it's given Murphy and company permission to just have fun. He's spent years creating projects that forced his twisted sense of humor to coexist alongside disparate styles, like after-school special teen melodrama (think of the more ham-fisted episodes of Glee) or maudlin social commentary (Asylum's oppressively obvious condemnation of the church or Freak Show's unrelenting reminders that everyone is a freak in some way). Here, however, the already campy slasher genre is a perfectly low-stakes game for Murphy to play. The actual intricacies of the plot and characters (where Murphy certainly has an uneven record) are far less important than doing it with style (which is where his projects shine).
Though the latest installment didn't have quite the body count of it's two-part premiere, it did give us lots of Denise (Niecy Nash) and Chad Radwell (Glen Powell). In the absence of any Nick Jonas shirtless scenes, those two are certainly stealing the show.
Let's dive into what happened in our SPOILER-filled recap, below.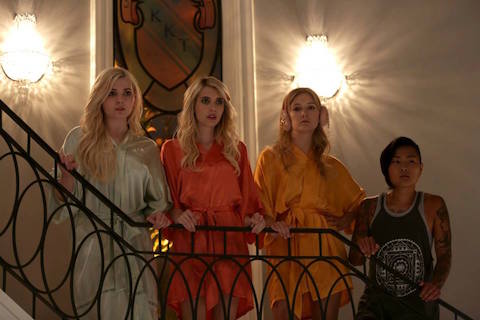 Tensions are running pretty high around Wallace University since folks started to up and die around campus. Even a quick trip to the mini-mart is enough to get Hope Faith Grace (Skyler Samuels) and Zayday (Keke Palmer) on edge. When they run into a red devil in the aisles of pork rinds, Grace pulls out the taser from Zayday's grandma and fires it straight at his manhood. Sure, it turns out to be an innocent classmate, but I kind of think he had it coming, given his tasteless choice to dress up as the figure that's supposedly murdering students.
Cut to the walk-in freezer where Chanels No. 1 (Emma Roberts) and No. 5 (Abigail Breslin) are in the midst of freaking out over the lack of Chanel No. 2 (Ariana Grande) in there. Once again, it seems like a body has gone missing. Chanel No. 5 has had enough hysterics for one lifetime, thank you very much, and she informs Chanel No. 1 that she is just too busy banging brothers Roger and Dodger (played by gay Youtube stars The Rhodes Brothers). She wants to spend less time worrying about icky murder, and more time getting "Eiffel Towered by hot morons that are brothers." I feel you, No. 5. I feel you.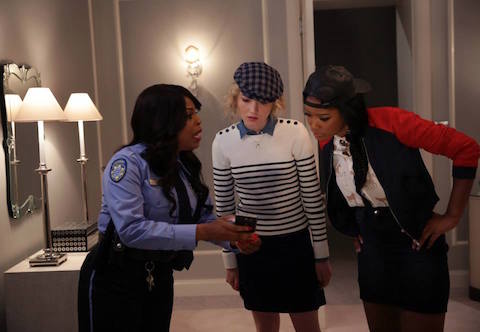 Chanel No. 2's body may be gone, but she is not forgotten. Grace and Zayday are snooping around her room and can't help but notice a large stain on the floor. Maybe it was just the remnants of a late-night purge or maybe she dropped a jelly doughnut. Who could be sure? Denise Hemphill, Secure Enforcement Solutions, that's who could be sure. She pops up, ever the voice of reason, to remind the girls (and the audience) that obviously it's blood. It's always blood. To prove it, she pulls out some Luminol and sprays it right on the stain. Yup, blood.
You may be asking yourself "Why does Denise Hemphill, Secure Enforcement Solutions, not have a gun, but she does have Luminol?" Great question! It's the same one Grace and Z have for her as well. Denise's priceless answer is that Luminol is just as good at detecting horseradish as it is detecting blood, and she hates horseradish. But she loves Arby's. A little spritz on her sandwich and she can be extra sure there's no sneaky horseradish in there.
Denise also appears to be the only one around who noticed Chanel No. 2's last, desperate tweet about being murdered by the Red Devil. Let this be a lesson on the importance of a sound social media strategy.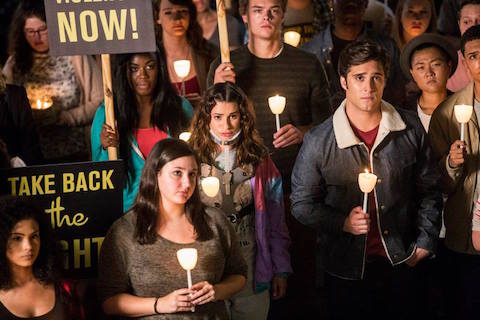 Dean Munsch (Jamie Lee Curtis) is hoping to refocus the energy on campus by holding a Take Back the Night rally, where students walk around campus with candles. She attempts to discredit rumors about a serial killer on the loose by reminding students (and the audience) that the death of Boon (Nick Jonas) has been ruled a suicide. She also reveals that she's replaced the school's red devil mascot with an ice cream cone named Coney.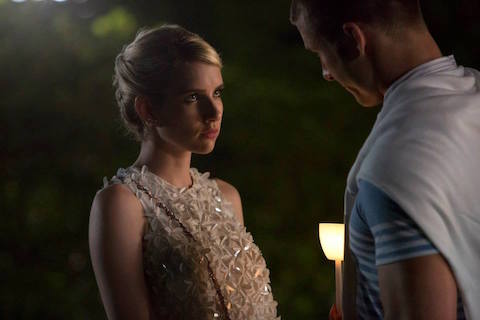 Among the attendees at the rally is this episode's MVP, Chad Radwell. Sad Chad is sad about his bro's untimely demise, and Chanel Prime wants to be the one to comfort him. But now that she's presiding over such a motley pledge class, he can barely sleep with her, let alone date her. The rally is also a chance for Chanel No. 3 (Billie Lourd) to get close with lesbian pledge Sam (Jeanna Han). Sam reveals that she's caught a glimpse of Chanel No. 3's "869" lower-back tattoo, and, later, Chanel No. 3 reveals that her biological father is actually Charles Manson, because Ryan Murphy can't help himself.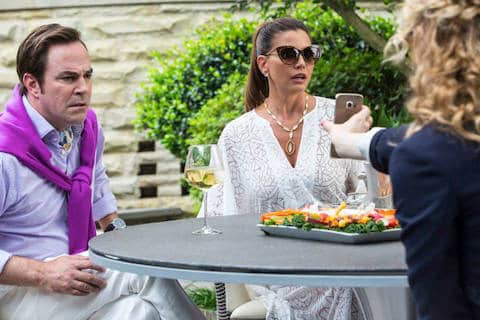 Grace, Zayday and Denise head out to Chanel No. 2's parents' house to further investigate the high-ponytailed student's disappearance. Her parents (portrayed by Desperate Housewives' Roger Bart and Buffy The Vampire Slayer's Charisma Carpenter) tell them Chanel No. 2 is an alcoholic, and she was dating Chanel Prime's on-again, off-again boyfriend, Chad Radwell. We later learn she wasn't the only one. Chanels 3 and 5 (and I can only assume  also 4) were all schtupping Chad.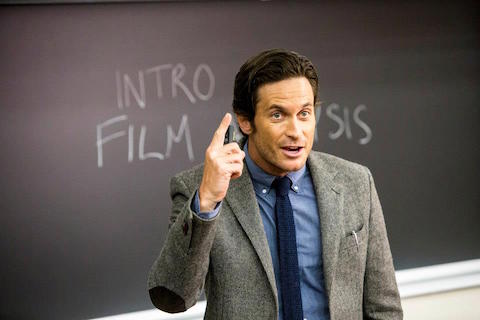 Back on campus, Grace's dad, Wes (Oliver Hudson), is making his university debut as a film studies teacher. For his first class, he shows his favorite movie, The Texas Chainsaw Massacre, which is a very normal, chill thing to show a college class where people have been getting murdered and you got a job because you were so upset about your daughter possibly also getting murdered. Very subtle. Gigi (Nasim Pedrad) drops in to see Wes in action, and you practically need a mop to clean up the drool she's spilling over the handsome prof. As they flirt after class, the dean drops in and invites Gigi to a little singles action on her tennis court. On the court, the dean suggests she and Gigi move into the Kappa house together for the week. Oh, and also, stay away from her man, which is a pretty strong interpretation of what seems like a one-sided crush. Definitely doesn't scream MOTIVE for any later shenanigans. Again, subtle.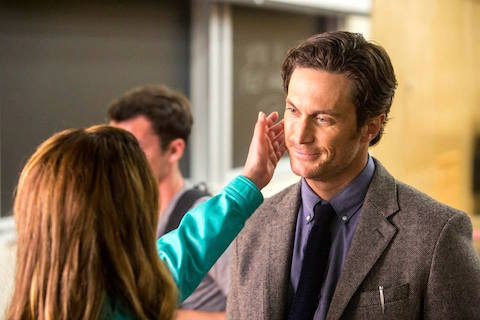 Chainsaw fever continues to spread when Coney, barely able to relish his newfound fame as Big Mascot On Campus, is murdered by the Red Devil using, what? A chainsaw. Some might even call it a massacre.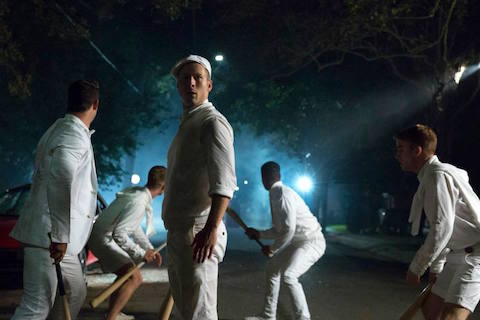 That's not the only chainsaw to make an appearance in tonight's episode, though. Not by a longshot. Chad rallies his frat, the Dickie Dollar Scholars, to take to the streets in order to avenge their fallen brother, Boon. You see, even though Boon's death has been officially ruled a suicide, Chad saw bloody footprints leading away from the body. Meaning, he was killed, and that killer is still out there. So, Chad and his bros hit the streets hopped up on crappy beer and HGH, swinging baseball bats and looking for the Red Devil. To their surprise (but not really to the audience's) they're confronted by TWO Red Devils, each swinging this episode's titular chainsaw. One of the Devils bonks Chad on the noggin with the non-business end of a chainsaw (the casual end?), knocking him out, before hacking off both arms of another brother. Does the Devil's reluctance to kill Chad confirm it's Boon under that mask? Maybe!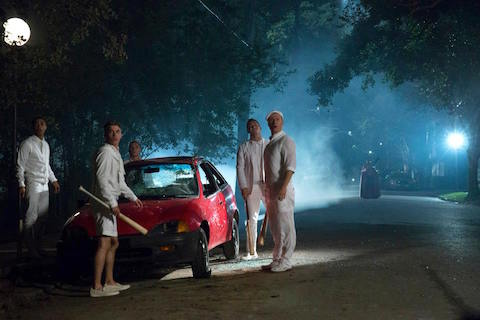 Speaking of secret identities, did you know under that frizzy hair and neckbrace, Hester (Lea Michele) is actually a beauty? After she's caught creeping around Chanel Prime's closet, the Kappa Kappa Tau president gets the brilliant idea to un-motley her crew as to reinstate the hotness of the sisters. Not bad thinking. So, Hester gets the full She's All That and debuts as Chanel No. 6, much to the displeasure of Chanel No. 5.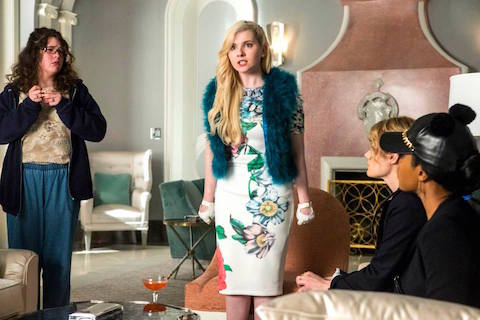 Someone ought to buy stock in chainsaws, because their sales are spiking. Denise presents us with a heretofore less obvious choice for prime suspect: Zayday. Not only did Denise find a chainsaw under Zayday's bed (which Z claims her grandmother sent her to use for protection), but she also found evidence that Zayday is going to try to overthrow Chanel No. 1 as president of the sorority. Her final piece of evidence is one of Z's old tweets about how Annalise Keating on How To Get Away With Murder should consider working with a partner. ("Hashtag cahoots!") Zayday seems like an unlikely choice for Red Devil at this point, but it's still a little early to say. It's not, however, too early to start screaming "Hashtag cahoots!" at every opportunity you have.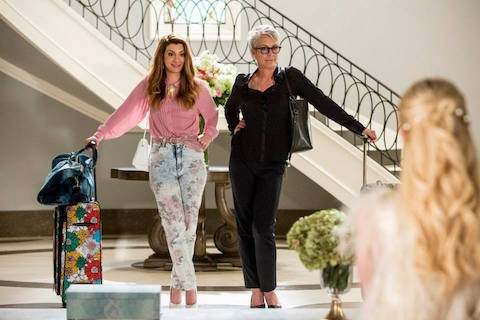 As Z snuggles in bed with her chainsaw safely returned, Wes comes over for a little menage-a-date with the Dean and Gigi. When they catch Z leaving the house, Wes panics that his daughter isn't with her. Turns out, she's out to find the one name on last week's list that her barista-slash-reporter-slash-person-whom-she no-longer-considers-to-be-the-murderer, Pete (Diego Boneta), was able to track down. More on that next week.
While Wes is out in his truck, Gigi and the dean settle into bed, and Munsch puts on her white noise machine, which features such soothing sounds as whale distress calls, an airplane rapidly losing altitude and some kind of baboon frenzy. She finally settles on the "slasher movie" setting at a deafening volume. Subtle!
Gigi decides to try to catch her Zs (sleep, not Zaydays) on the couch downstairs, oblivious to the open door behind her. Who's that waiting for her to settle in? The Red Devil. And what does he have? Only this season's hottest accessory, a chainsaw. Scuffle, scuffle, scuffle, and in comes Wes to the rescue. Grace's dad catches a tiny baby cut to the arm, before Gigi deals the blow that dispatches the Devil. The masked madman makes off, leaving his chainsaw behind.
Moments later, the dean comes downstairs, leading Wes and Gigi to the conclusion that it was her all along.
What do you guys think? Are the dean and Boon in hashtag cahoots?
Tell us your theories and what you thought of the episode in the comments.