The virulently anti-LGBT World Congress of Families is gearing up for its 2015 convention in Salt Lake City next month and Governor Gary Herbert is welcoming the Southern Poverty Law Center designated hate group to his state with open arms.
The SPLC notes that the Illinois-based group hailed Russia's 2013 anti-gay "propaganda" ban as a "great idea" and in 2009 opposed a UN statement that called for the decriminalization of homosexuality. worldwide.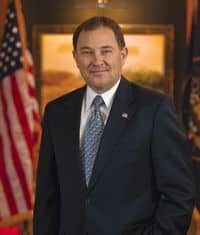 The Salt Lake Tribune reports:
A schedule of events for the four-day gathering says Herbert will give an opening address when it opens on Oct. 27. The event is expected to draw about 3,000 to its seminars and panel discussions which will focus on providing tools for strengthening the family and protecting children, according to organizers.
Herbert's office confirmed that he will speak at the conference, and it released a statement regarding his stance on LGBT issues.
"Gov. Herbert's record is clear on the issue of nondiscrimination," spokesman Jon Cox said in the statement. "He is proud to have signed into law SB296, which provides unprecedented protections for religious groups and members of the LGBT community."
HRC was understandably disgusted with the governor's plans to welcome the group to his state.
"It's astonishing that the Governor of Utah would allow himself to be mentioned in the same sentence as the World Congress of Families–let alone be in the same room with them," said Ty Cobb, Director of HRC Global.  "To be clear: this is a hate group that's literally convening thousands of extremists from around the globe to strategize and share information about their nefarious activism.  Hate is not an American value, and we call on Governor Herbert to cancel his appearance."
Last year, WCF was featured in an HRC report exposing exposing some of the most vitriolic activists in the U.S. promoting anti-LGBT bigotry abroad. WCF later launched a petition against HRC demanding the organization stop it's "hate-filled" attacks on the listed hate group.