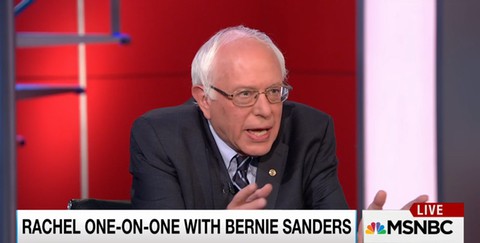 On Monday night, Rachel Maddow interviewed Bernie Sanders and discussed his "sharp contrast" with Hillary Clinton on DOMA.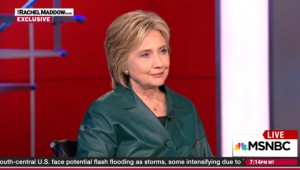 It was last Friday night that Clinton, coming off her 'best week ever', told Rachel Maddow that both Don't Ask, Don't Tell (DADT) and the Defense of Marriage Act (DOMA) were "defensive actions" necessary to stave off "something worse." In the case of DOMA, that "something worse" was allegedly a constitutional amendment that would have banned same-sex marriage.
Over the weekend, Bernie Sanders, speaking at the Jefferson-Jackson Dinner in Iowa, took issue with what he called the 'rewriting of history' on DOMA, clearly in reference to Clinton's remarks. Said Sanders, "Now today, some are trying to rewrite history by saying that they voted for one anti-gay law to stop something worse. That is not the case." Sanders was part of the small minority who voted against DOMA in 1996.
Many gay rights activists have also chimed in to say that there was not "something worse" waiting in the wings threatening the gay community, making DOMA neither politically necessary nor politically beneficial to the LGBT community. Politico and long-time Clinton supporter Hilary Rosen even tweeted her disagreement with Clinton's recounting of the record on DOMA:
https://twitter.com/hilaryr/status/658110744928612353?ref_src=twsrc%5Etfw
So with all this to and fro over DOMA, and with Sanders in Maddow's hot-seat for 'the interview', the two took to talking about what really happened with DOMA.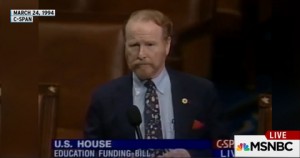 But first, Maddow recalled her own experience of the anti-gay and homophobic 90s, when she was an AIDS activist and she saw a Republican congressman outed on the floor of the House of Representatives, an event she said "sent a chill up her spine." It was within that context that the debate over DOMA transpired.
When asked by Maddow why he was drawing a "sharp contrast" between himself and Clinton on DOMA, Sanders implied that the issue underscores a larger difference between himself and Clinton. Whereas Clinton has changed her views to usually favor the most politically expedient and palatable, Sanders has been consistent throughout his career–or so the argument goes:
"Yes, it is a good idea that recently for example Hillary Clinton has decided to oppose the TPP—Trans Pacific Partnership—that's great, I'm glad she did that. Well, I have been opposed to these disastrous trade agreements from day one. I'm glad that Hillary Clinton has come onboard and now said she's against the Keystone Pipeline. Well you know what? If you take climate change seriously, and you understand the cataclysmic impact that it will have on this planet, it is a no brainer…and then we get to this issue of DOMA. Here was my point, it was a simple point: I have had in many years in politics had to make tough votes…the times then were very, very different…we had a lot of homophobia going on, you know, right-wing Republican leadership clearly trying to push this anti-gay legislation. And it bothered me to hear Secretary Clinton say, well, you know, DOMA was really about to prevent something even worse. That just wasn't true."
Maddow also asked Sanders about his opposition to marriage equality in Vermont circa 2006 (he said the state needed more time, that the issue was too "divisive"). Find out what he has to say about those comments now along with the rest of Maddow's interview, below: