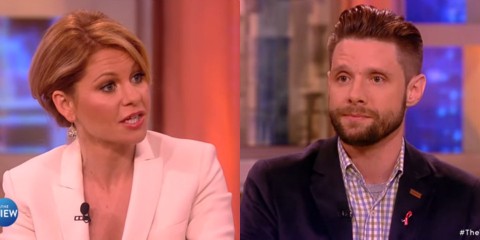 Former Who's The Boss? child star Danny Pintauro sat down with The View co-hosts Candace Cameron Bure and Raven Symoné (both of whom are former child stars themselves, appearing on Full House and The Cosby Show respectively) to talk about his HIV status and his past drug use.
Pintauro first revealed to Oprah that he was HIV positive and that he had used crystal meth.
Asked by Bure why he decided to reveal his HIV status now, Pintauro said,
"Telling your family that you've got HIV is hard enough. Telling your friends that you had a meth problem is hard enough. Telling the country–it takes some time."
Speaking of his crystal meth use, Pintauro said that his use was intertwined with sex:
"As soon as I wanted to explore some rougher sides of my sexuality, I encountered meth…The reason I kept doing it over the years was probably because I had some stuff in my life that I was not ready to deal with."
Bure appeared cold throughout the interview and then asked a question that seems purely intended to shame Pintauro:
"I want to know, do you take responsibility for your actions? For being promiscuous, going into a lifestyle of having heightened sex because of the meth that you were using? I want to know what the message is. Because you want to be the face of HIV, to give that a face. But what is the message that you have? What does that mean?"
After saying he absolutely takes responsibility for his actions, Pintauro said, "I don't want to be a hero. I don't want to be a role model. I want to be the example."
For her part, Symoné asked Pintauro's husband in the audience if they have unprotected sex. Symoné also commented, "There's also a lot of different ways to get AIDS." To be clear, Pintauro does not have AIDS. He is HIV positive and says he is undetectable.
Pintauro says he wants to go on a "Beacon of Light" tour to visit LGBT Pride events to stress the importance of HIV testing, medication and knowing your status.
Watch The View segment below:
https://www.youtube.com/watch?v=AFPt71nSsB4
[h/t OUT]