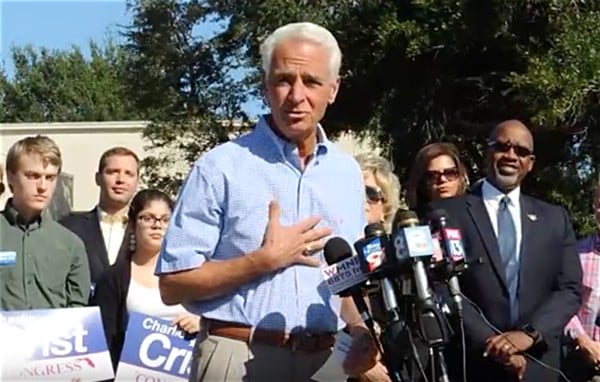 Former Florida Governor Charlie Crist is mounting a political comeback, hoping voters will elect him to Congress. Crist's last attempt, after switching parties and becoming a Democrat, went down in flames after Rick Scott hit him with a barrage of negative ads in the final weeks of his gubernatorial campaign.
The Sun-Sentinel sums up the rest of his political career:
He served as Florida governor from 2007 until 2011 and was mentioned as a possible vice presidential pick in 2008. Many believed he had an eye on eventually running for president.
But his career came to a screeching halt when he decided to run for U.S. Senate instead of seeking a second term as governor. He began the campaign as the heavy favorite to win, but then Marco Rubio began using images of Crist hugging President Barack Obama. Republican support for Crist dwindled. Crist ended up dropping out of the primary and running as an independent. He lost to Rubio, who is now running for president.
Watch his announcement: