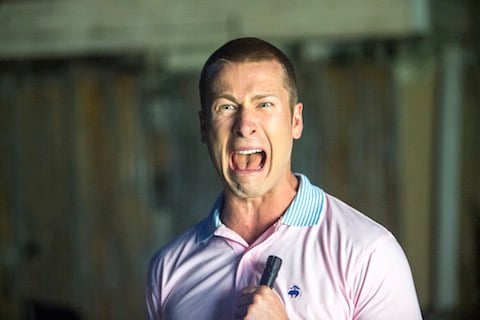 It appears as if Scream Queens is taking a page from American Horror Story's book with a multi-part Halloween special, and, so far, it's a doozy. If I ragged on last week's episode too much for bombarding viewers with a slew of obvious red herrings, I've got to hand it to the most recent installment for doling out some juicy reveals.
Though, to be fair, for all the genuine progress the story appears to be making, there were still a couple of head-scratching moments.
Let's dive into what we learned last night in our recap below. Warning: Nothing but SPOILERS ahead.
We kick off with a hand-held video educating us on the beauty of Chanel-o-ween. Our reigning queen of Kappa Kappa Tau, Chanel No. 1 (Emma Roberts) loves all things Halloween, and her social media fans love all things Chanel. As she describes, "A lot of my fans are like friendless dumpy co-eds at this or that nursing school in one of this country's various national armpits," so she aims to brighten their days with personally addressed packages containing gory gifts. The whole thing is a note-perfect satire of both social media celebrity culture and the kind of feel-good fan surprise that stars like Taylor Swift specialize in.
It's great, and you should watch it here: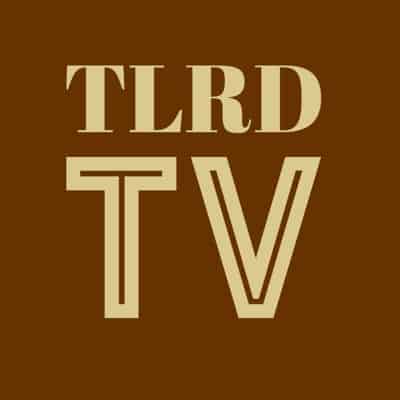 On the one hand, good on Ryan Murphy and company (this episode was written by Brad Falchuk) for so brilliantly skewering such current cultural zeitgeist (even that background song is an inspired choice). On the other hand, we've at least partially got Murphy and Glee to thank for creating and celebrating a kinder, gentler, more inclusive sort of celebrity. Try and tell me Chanel's fans don't seem like Gleeks. Even the footage feels like it was ripped from Glee: The 3-D Concert Movie.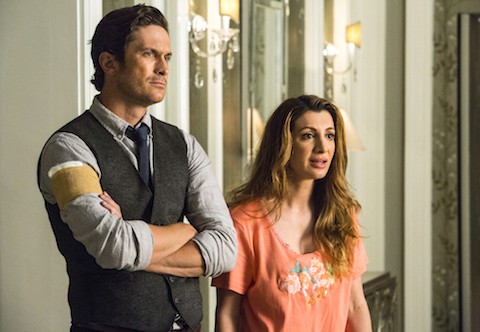 That little aside out of the way, we rejoin the scene at Kappa House as detectives are questioning Dean Munsch (Jamie Lee Curtis) about the Red Devil who attacked Gigi (Nasim Pedrad) with a chainsaw. Munsch poo-poos the idea that she could logistically pull off the attack herself from upstairs, and her standing in the community has got the detective convinced she's not a suspect. When Grace's dad (Oliver Hudson) presses the issue, Munsch aggressively comes on to him.
Elsewhere, Grace (Skyler Samuels) and Pete (Diego Boneta) track down one of the 1995 Kappa Kappa Tau girls living off the grid. She explains what really went down that night, and it all seems very important, so pay attention. Once the baby mama is discovered dead in the tub, one girl (a brunette) volunteers to stay behind with the baby. (More on her later.) Three of the other pledges go with Dean Munsch to dispose of the body. Munsch tells them that they'll all be arrested for negligent homicide if they call the cops, and she can't have that on her, as she is the liaison for Greek life. She has all the girls put bags on their heads so they don't know where they're going to bury the body and drives them out into the woods. Munsch instructs the girls to drop out of school and cease communication, but this surviving KKT sister says she thinks one girl killed herself, one girl was institutionalized and one is doing pretty OK on Fox News. Also, that baby? It was for sure a girl baby.
Later, this survivor is tormented in her trailer and killed by the Red Devil(s). Official cause of death is "stabbed a whole lot and all over." R.I.P., Lady Whose Name I Don't Remember. Thanks for all that backstory!
Armed with this new information, Grace starts picking up what lots of viewers have been saying: She's really the KKT baby. Her dad is all "WHAT?! Nahhhh! OF COURSE NOT!" all VERY convincingly. (Her father had been busy very creepily showing his film class Children of the Corn, like any sensitive, concerned dad would do on a campus he believes is being rampaged by a murderer with sights set on his daughter's sorority.)
But just as she's hitting a roadblock in her investigation, Pete has a lead. He has her meet him at an abandoned house on Shady Lane. Once there, they run into Zayday (Keke Palmer) and her new Dickie Dollar Scholar friend, Earl Grey (Lucien Laviscount). She's there scoping out potential locales for her fundraiser, hoping to bolster her chance to become KKT pres. The foursome is joined by Denise Hemphill (Niecy Nash), fresh from doing some research of her own. It seems that both she and Pete had been boning up on their reading in the library, and they both learned the legend of the Shady Lane Hag. Apparently, she was known to wail from the old, abandoned house over her dead children. Everyone thought it was a myth, until one day someone spotted her taking toys out of the trash. Zayday, Grace, Pete, Earl and Denise head upstairs and find the creepy room in the creepy house full of creepy dolls. It is, in a word, creepy.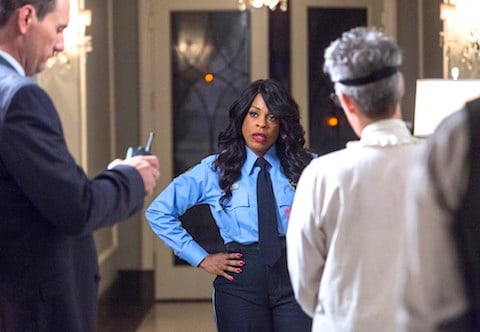 That's when Denise confronts Zayday and accuses her of trying to host her party there so she can use it as a cover to murder more people. But Zayday has had it with Denise constantly coming for her, so she tells Denise that MAYBE she's so all over Z, because, TWIST!, in 1988, Denise tried to pledge Kappa and was turned away because racism. Now, she's just mad that Zayday is not only in, but also in the running to be president.
Threatened by Zayday's presidential aspirations, the Chanels plan to throw a haunted pumpkin patch party to counter Z's haunted house. As they flier the cafeteria, they take an eensy break to chow down on some cotton balls and then beat up a guy who catcalls them, because Ryan Murphy and friends love to comment on topical issues, whether they're relevant to the plot or not.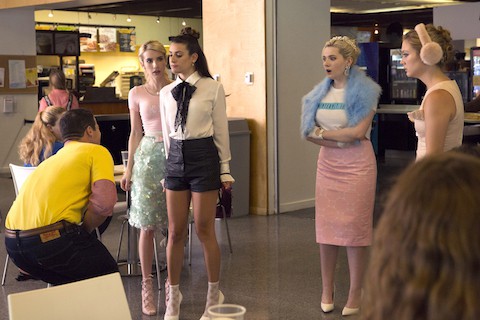 Meanwhile, in a graveyard, Chad Radwell (Glen Powell) is being gross and walking around getting turned on by tombstones. Chanel No. 6/Hester (Lea Michele) appears and tantalizes him with her similarly macabre fetishes. She tells him she's going to text him a sexy scary location to meet and be disgusting at together. Later, at the haunted house on Shady Lane, they both arrive claiming to have been texted by the other. Still, convinced the other one is playing sexy play-murder games, they proceed into the haunted house, blissfully ignoring the possibility that this is potentially an unsexy for-real murder scenario.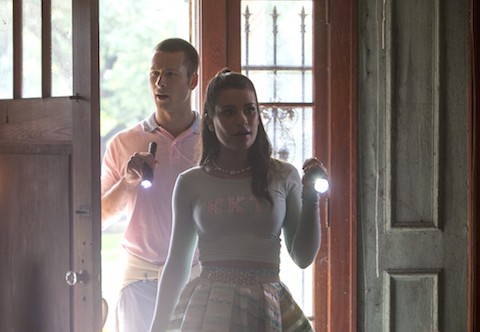 Surprise! It is! The haunted house has been staged with all those missing bodies: Ms. Bean. Chanel No. 2, Shondell, Coney and that surviving member from the 1995 bathtub incident. Not so sexy now, is it? Once they realize these are real bodies and not props, they abandon all their sexy backdoor plans to run out of a literal backdoor screaming in terror.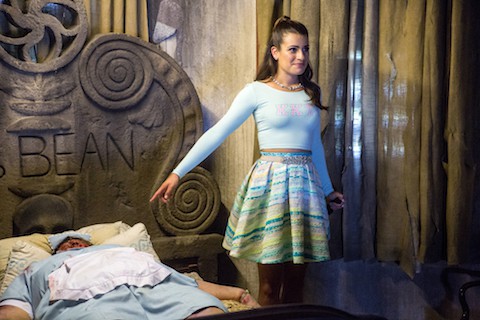 They try to warn their classmates at the coffeeshop, but, being as it's Halloween, people are excited about the idea of what I can only assume they assume are hyper-realtistic fake dead bodies at the haunted house. When Grace, Zayday, Pete and Earl show up, they know the bodies are legit and freak. Zayday goes to call the cops, but even law enforcement is similarly stoked about the super realistic haunted house. Before she can underscore just how real they are, she runs into the Red Devil.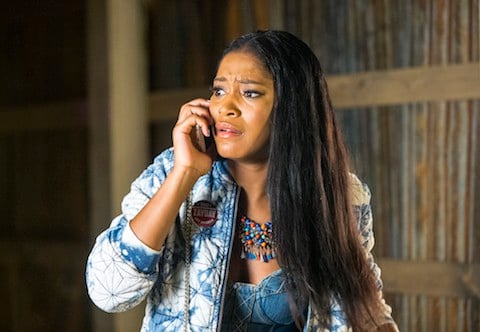 Cut to everyone back at the Kappa House with the police, the Dean, Grace's dad and the whole Kappa krew. Dean tries to downplay all this new info, being that three of the five bodies weren't even students, but Grace's Dad isn't having it. Grace is feeling the urgency to find Zayday, who she believes has been kidnapped. (Aside: How is it that she assumes she's kidnapped and not just dead? We know from the previews that's the case, but how do they know? Was there a ransom note? If someone I knew went missing at a party just full up of dead bodies and a murderer was on the loose, I'd be pretty sure she was not going to be flying home to grandmom for Thanksgiving no matter how hard we tried. The Red Devil(s) have not held anyone else captive up until this point.) As the grown-ups retreat to the kitchen to strategize, Grace reveals to Peter her latest finding.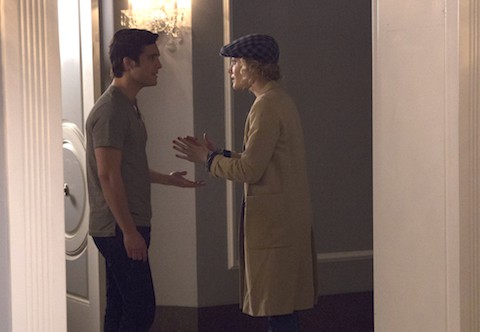 It turns out, that Hag of Shady Lane? She started appearing not long after the 1995 KKT bathtub incident, first stealing diapers from a convenience store and then milk from a milkman. She was taking care of a baby! The Kappa Kappa Tau bathtub baby! Now if only they knew who she was …
Cut now to the abandoned house where Gigi is rocking back and forth in a black, hag-like cloak and moaning amongst the creepy old toys.
Dun, dun, dunnnnnnn.
OK, some things to unpack here. Obviously, Gigi is the Hag and also almost definitely that brunette from 1995 who stayed behind to take care of the baby. Her escape with the infant is likely the only thing that kept Munsch from killing the baby. (She's also probably the one that survivor lady said was institutionalized.) Sure, we know that all those KKT girls from 1995 allegedly changed their names and whatnot, but it is a little suspicious that the Dean doesn't recognize her.
Also, as the Chanels beat up that guy in the prolonged (and seemingly pointless) cafeteria scene, Belinda Carlisle's 1986 hit "Mad About You" played. It's not the first time the show leaned on an '80s soundtrack, which is strange, since most of the action takes place today and in the 1990s. It makes me feel like there's an element to this story that we haven't learned yet, and it involves an even older generation. Part of me feels like Munsch's link to the killer(s) and Kappa pre-dates even her time as Greek life liaison.
What do you think? Who do you think are underneath those Red Devil masks?