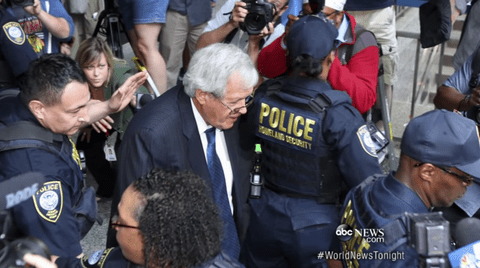 Former GOP Speaker of the House Dennis Hastert pleaded guilty on Wednesday to lying to the FBI about cash withdrawals that were reportedly used as "hush money" to cover up past sexual misconduct involving a minor.
Hastert was accused of withdrawing as much as $100,000 at a time to hand over to a person named in court documents as "Individual A", an individual several news outlets have suggested was a former male student Hastert knew when he was a high-school wrestling coach. Between 2012 and 2014 Hastert withdrew $952,000.
Hastert will avoid a trial and serve only 6 months if the deal with federal prosecutors is accepted by the judge.
Hastert's brief written statement was narrow, saying that he structured bank withdrawals in a way that they would not be detected.
The Illinois Republican explained why he lied to the FBI, saying simply, "I didn't want them to know how I intended to spend the money."
The judge asked Hastert, "Did you know that what you were doing was wrong?"
He responded, "Yes, sir."
The change-of-plea hearing was the longtime GOP leader's first court appearance since his arraignment in June, when he pleaded not guilty in the same courtroom in Chicago.
Though Hastert may be saved the humiliation of having the details of his sexual misconduct revealed in court, the conviction is nonetheless damning:
As a convicted felon, "no congressman will want to meet with him about anything. His influence and power will be gone," said Dick Simpson, a co-author of "Corrupt Illinois: Patronage, Cronyism, and Criminality."