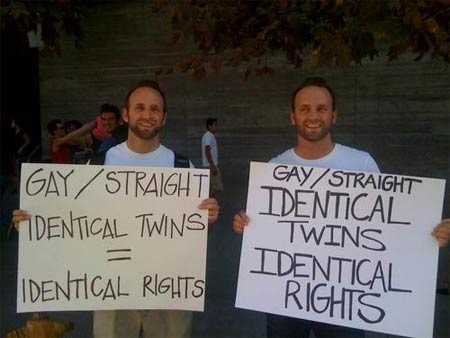 Tuck Ngun, a researcher from UCLA, claims he has discovered that a saliva can predict sexual orientation with a high rate of success.  He is presenting his findings today at the American Society of Human Genetics annual meeting in Baltimore, Maryland.
Ngun studied 47 sets of male twins. 37 of the twin pairs were both gay, and 10 pairs differed in identified sexual orientation.
They ended up with a giant spreadsheet showing the levels of methylation across the genome of each twin, says Ngun. Next, Ngun and his colleagues looked at the genomes of homosexual and heterosexual volunteers. They used an algorithm to search out gene regions in which methylation patterns differed significantly between the two groups.
They found five sites– three in regions of "junk DNA", the role of which is unclear, two in genes whose roles are relatively well established. One of these genes is involved with the production of MHC II molecules. These are important for a healthy immune system, but are also thought to affect sexual attraction.
The other gene region implicated is responsible for making a protein that affects neuron function.
New Scientist adds:
The team then went a step further. Using the test results from 20 of the pairs, they developed a model to predict if a person is straight or gay based on the methylation patterns of their genes. When they tested their model on the remaining pairs of male twins, they found it correctly predicted sexual orientation 67 per cent of the time.
Scientists, as they should be, are approaching the report with skepticism:
Commenting on the research, Professor Tim Spector, from King's College London, a leading expert on twin studies and genetics, said: "It has always been a mystery why identical twins who share all their genes can vary in homosexuality.
"Epigenetic differences are one obvious reason and this study provides evidence for this. However the small study needs replicating before any talk of prediction is realistic."
Darren Griffin, professor of genetics at the University of Kent, said: "To claim a 70% predictive value of something as complex as homosexuality is bold indeed. I wait with bated breath for a full peer-reviewed article.
"While there is strong evidence in general for a biological basis for homosexuality my personal impression has always been one of a multiple contributory factors, including life experiences."
Gil McVean, professor of statistical genetics at Oxford University, said: "Without validation of the result in an independent data set it is not really possible to know whether there is any substance in this claim.