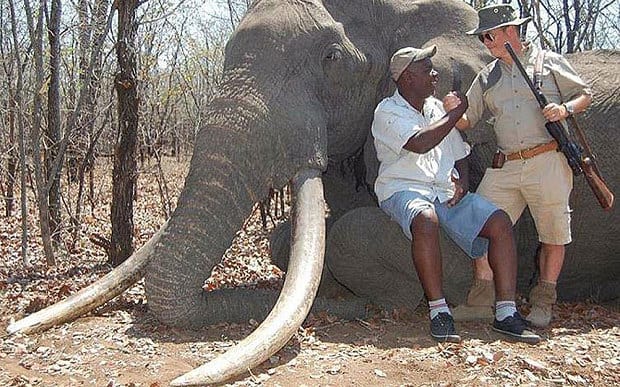 Conservationists and elephant lovers around the world are outraged at news that a 40-60 year old large-tusked African elephant, one of the largest ever sighted in Zimbabwe, has been slaughtered by a German hunter.
Photos of the hunter posing with the tusks and the elephant's carcass were posted to Facebook by Anthony Kaschul, the owner of a photographic safari firm in Gonarezhou.
The Telegraph reports:
It was shot on October 8 in a private hunting concession bordering Gonarezhou by a hunter who paid $60,000 (£39,000) for a permit to land a large bull elephant and was accompanied by a local, experienced professional hunter celebrated by the hunting community for finding his clients large elephants.
The German national, who the hunt's organisers have refused to name, had travelled to Zimbabwe to conduct a 21-day game hunt including the Big Five of elephants, leopards, lions, buffalo and rhinoceros.
The kill was celebrated in hunting forums around the world, where it was suggested he might have been the biggest elephant killed in Africa for almost 30 years.
The hunter has not been identified.  Walter Palmer, the American dentist who killed Cecil the lion, would probably urge him to do everything he can to avoid that.
German Hunter pays 40K to kill Africa's biggest elephanthttp://t.co/jxkkLrUubV Can I pay 40K to knock Germany's biggest twat's teeth out?

— Ricky Gervais (@rickygervais) October 15, 2015