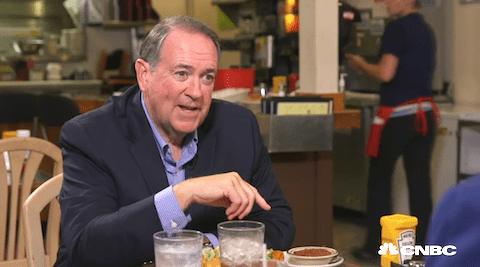 Presidential candidate Mike Huckabee is talking out of the corner of his mouth once again, saying he hasn't "disparaged," people when it comes to gay rights and marriage reports CNBC.
Huckabee issued his statements in an interview with Chief Washington CNBC correspondent John Harwood, after the journalist questioned Huckabee about the Duggar family, with Huckabee stating he doesn't disparage the entire family because of Josh Duggar's abuse scandal. Harwood followed up Huckabee's disparagement comment asking if he's disparaged against anyone, with Huckabee boldly proclaiming he hasn't:
"I don't think I have disparaged people John, I feel like it…I've held to a very consistent, biblical standard of marriage."
Huckabee appears to forget that he once signed a disparaging pledge branding same-sex parents as "destructive," and a "threat to security," and promised a three-point plan to sign "religious liberty" executive orders to protect "traditional" marriage and prosecute as hate crimes any attacks on the right of religious people to discriminate against LGBT people should he become president.  
Watch Huckabee's hypocritical remarks below: