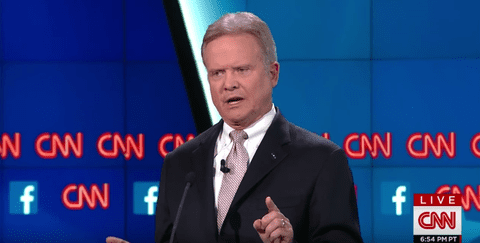 Former Virginia Senator Jim Webb is set to drop out of the race for the Democratic nomination for president this afternoon following his lackluster performance in last week's Democratic Debate and his struggle to raise campaign cash. Webb was rumored Monday to be announcing he would seek the White House as an independent. He reportedly has not settled on that option but will consider it in the coming days and weeks.
Fox News first broke the story:
While Webb is thought to be weighing a possible independent bid, he is not expected to launch an independent campaign for president Tuesday. Rather, he's expected to take some time after his announcement to talk with people from across the political spectrum before making a decision.
Webb, like most of the other candidates in the Democratic race, has struggled to get out from under the shadow of front-runner Hillary Clinton. During the first Democratic debate last week Webb complained repeatedly about how little time he had to answer questions.
He said Thursday he felt the debate had been "rigged in terms of who was going to get the time on the floor."
Of Webb's financial woes, Politico adds:
Webb has struggled to raise cash against his Democratic opponents, reporting taking in just under $697,000 in his recent filing statement, with less than $317,000 on hand — less than Harvard law professor Larry Lessig, who did not qualify for last week's debate in Las Vegas, an event where Webb felt that he did not receive enough time to speak. In the same period, Hillary Clinton raised nearly $30 million, with $25.7 million on hand.
Webb's press conference will happen today at 1 PM EST.