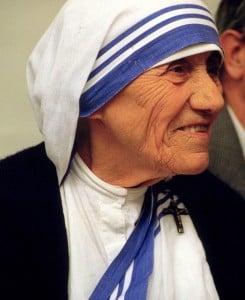 Mother Teresa's charity is getting out of the adoption business because it refuses to allow single, gay parents to adopt children.
The move from The Missionaries of Charity comes in response to new guidelines from the Indian government which will guarantee that single, separated, or divorced individuals will be able to adopt children. The Missionaries of Charity see that edict as a way for gay men and women to adopt as well, something which the charity does not support.
"The new guidelines hurt our conscience. They are certainly not for religious people like us. … What if the single parent who we give our baby [to] turns out to be gay or lesbian? What security or moral upbringing will these children get? Our rules only allow married couples to adopt," said Sister Amala, the head nun at the Missionaries' home in North Delhi, according to NPR.
The Missionaries previously had the freedom to accept or reject prospective parents at will. The new guidelines require potential adopters to register with CARA online to ensure greater transparency in the adoption process.
The Times of India reports that at least two cases have come to light recently where Mother Teresa's orphanages refused applications from single prospective parents.
The Missionaries of Charity has asked the Indian government to de-recognize 13 of their 16 orphanages. Meanwhile, Maneka Gandhi, minister for the department of Women and Child Development (WCD) is trying to change hearts and minds–though little conversation seems focused on gay adoption.
We are trying and persuading them because they are valuable, good people and have experience. But if they do not follow the central guidelines, we will be left with no option but to de-recognize the orphanages run by them and shift the children to other places," she said.
Gandhi, who is reportedly passionate about this endeavor, is saddened by the fact that only 1,200 children have been adopted so far, due to several bottlenecks in the adoption procedure. According to a report in The Indian Express, there are over 9,000 parents waiting to adopt but only 800 children are free for adoption.
Before she died in 1997, Mother Teresa founded the first AIDS hospice in New York and was famous for not using the words "homosexual" or "gay" referring to gay people instead as "friends of Jesus."