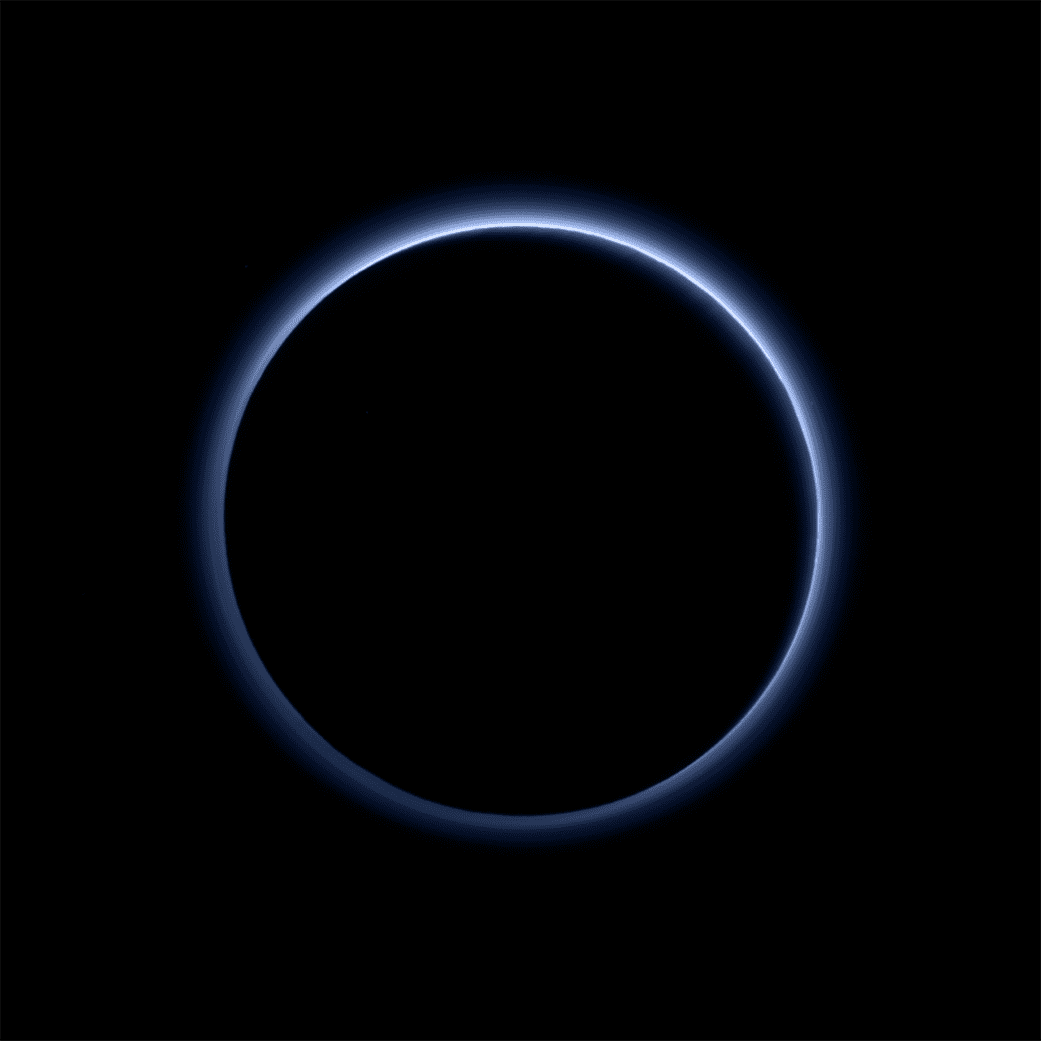 Pluto has a blue sky, NASA announced today, offering up more information revealed by the New Horizons probe's visit to the planet last month:
Pluto's haze layer shows its blue color in this picture taken by the New Horizons Ralph/Multispectral Visible Imaging Camera (MVIC). The high-altitude haze is thought to be similar in nature to that seen at Saturn's moon Titan. The source of both hazes likely involves sunlight-initiated chemical reactions of nitrogen and methane, leading to relatively small, soot-like particles (called tholins) that grow as they settle toward the surface. This image was generated by software that combines information from blue, red and near-infrared images to replicate the color a human eye would perceive as closely as possible.
The New Horizons spacecraft is currently 3.1 billion miles (5 billion kilometers) from Earth and is still operating normally, the agency said.
NASA adds:
"Who would have expected a blue sky in the Kuiper Belt? It's gorgeous," said Alan Stern, New Horizons principal investigator from Southwest Research Institute (SwRI), Boulder, Colorado.
The haze particles themselves are likely gray or red, but the way they scatter blue light has gotten the attention of the New Horizons science team. "That striking blue tint tells us about the size and composition of the haze particles," said science team researcher Carly Howett, also of SwRI. "A blue sky often results from scattering of sunlight by very small particles. On Earth, those particles are very tiny nitrogen molecules. On Pluto they appear to be larger — but still relatively small — soot-like particles we call tholins."
And water ice:
In a second significant finding, New Horizons has detected numerous small, exposed regions of water ice on Pluto. The discovery was made from data collected by the Ralph spectral composition mapper on New Horizons.