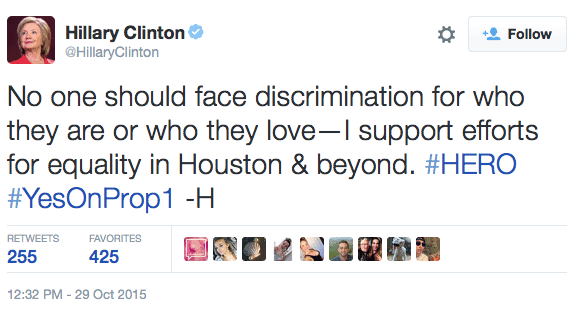 Democratic presidential frontrunner Hillary Clinton took to Twitter on Thursday to voice her support for Houston's Equal Rights Ordinance.
Clinton's tweet, which comes just five days before the election, is by far the most high-profile endorsement yet for HERO, which would prohibit anti-LGBT discrimination in the nation's fourth-largest city.
"No one should face discrimination for who they are or who they love — I support efforts for equality in Houston & beyond. #HERO #YesOnProp1 -H," Clinton wrote.
Human Rights Campaign President Chad Griffin was among those who responded to Clinton's tweet:

Clinton's tweet comes hours after actress Sally Field spoke out in favor of HERO, as supporters of the ordinance muster some last-minute star power in an effort to push the ordinance over the top.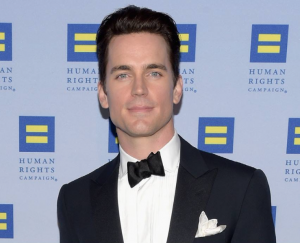 Also coming out for HERO on Thursday was actor Matt Bomer, a Houston native:
"The messages being broadcast across Houston attacking LGBT people in an attempt to repeal the Houston Equal Rights Ordinance (HERO) go beyond misleading – they're horrifying," Bomer wrote in an email for HRC. "These malicious ads, funded with a lot of money from anti-equality opponents, slander innocent people with slogans like "no men in women's bathrooms" and imply transgender Houstonians want non-discrimination protections as a means to abuse children."
Clinton, Field and Bomer join the likes of  Jesse Tyler Ferguson, Eva Longoria, Matthew Morrison and athletes Michael Sam and Jason Collins in of HERO.
Early voting on the ordinance continues through Friday. Election Day is Tuesday.
For all of Towleroad's HERO coverage, click HERE.