https://twitter.com/mikewynn_cj/status/656082886546882561
Last week we reported that the Westboro Baptist Church planned to protest Rowan County, Kentucky Clerk Kim Davis for being a "self righteous hypocrite", an adulteress, and a "fake Christian". And this morning, they showed up, right on schedule.
Mike Wynn, a reporter at the Courier Journal, tweeted a photo of several church members prepping their signs.
It's unclear what time Davis usually shows up to not do her job on Monday morning, but let's hope it's soon. It's unlike Kim to miss a good photo op.
Police are already there, as you can see in the photo, and Wynn notes:
https://twitter.com/mikewynn_cj/status/656073162191425536
Said the WBC, in its announcement last week: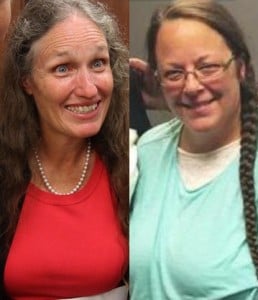 As it happened, the Supreme Court of the United States, fulfilling their destiny, made same-sex marriage the law of the land. The duty of all mankind is to OBEY the laws of God and the laws of man.  Enter, Kim Davis. Rowan County Kentucky Clerk, with high-dollar salary and digs, she acquired, ONLY after she took an oath to uphold and defend the constitution and the laws. Kim claims that she has lived in proud sin for many years, divorcing and remarrying, not one time or two times, in fact you need a score card to keep track.  Her lawyers, being smooth talking fellows say that all that was before her call to salvation two years ago when her current mother-in-law died….These matters are not hard and unclear.  That man that Kim Davis is living with and calling her husband, IS NOT! Her husband is Dwain Wallace, who she married when she was 18-years-old. It does not matter how many years you pile on, it was adultery at the beginning and it was adultery in the middle and it is indeed adultery today!
Other reporters are on the scene as well:
https://twitter.com/patrickpricetv/status/656089681432588288