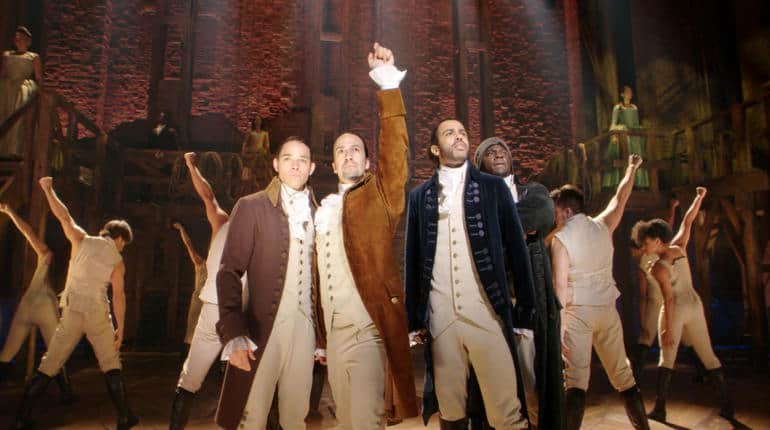 On Sunday's 60 Minutes, Charlie Rose interviewed Lin-Manuel Miranda, the creator and star of the Broadway musical Hamilton. A re-telling of the life and times of founding father Alexander Hamilton, Hamilton has been an undeniable sensation, hitting that rarest of sweet spots by becoming both a commercial and critical hit.
The play was inspired by a biography on Alexander Hamilton by Ron Chernow that Miranda picked up while on vacation after his first Broadway show, In The Heights, won the Tony for Best New Musical in 2008.
What many find remarkable about Hamilton, in addition to its irrepressible beats, is that it is a hip-hop musical wherein the founding fathers are played by an ethnically diverse cast. Rose says, "The idea to cast black and Latino actors to play the founders was deliberate. Miranda wanted to connect America then with America now."
For Miranda, hip-hop and Alexander Hamilton go hand in hand. Speaking of Hamilton's humble beginnings in as "a bastard orphan, son of a whore and a Scotsman, dropped in the middle of a forgotten spot in the Caribbean," Miranda says, "I was thunderstruck. I got to the part where, you know, a hurricane destroys St. Croix where Hamilton is living. And he writes a poem about the carnage and this poem gets him off the island…I drew a direct line between Hamilton's writing his way out of his circumstances and the rappers I'd grown up adoring."
The show has already sold $57 million in advanced ticket sales, and seen famous audience goers from President Obama, Vice President Biden, Dick Cheney and Beyoncé among many others.
Go behind the scenes of Broadway's hottest ticket, below: