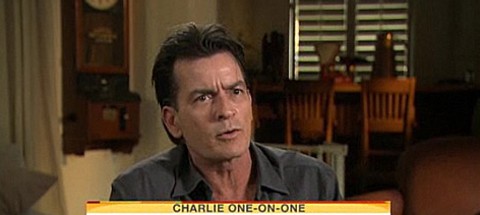 Charlie Sheen is set to appear tomorrow on NBC's Today show and media outlets are speculating Sheen will reveal he is HIV positive. Today has confirmed only that Sheen will sit down with Matt Lauer to "make a revealing personal announcement."
Rumors began to swirl last week in British tabloids that an "A-list" "womanizer" had caused Hollywood to become "gripped with fear" after news of his HIV status spread.
Charlie Sheen is going on theToday show to discuss being HIV-positive, sources tell PEOPLE.
According to top Hollywood publicist and crisis manager Howard Bragman, he was approached by people close to Sheen six months ago to deal with the crisis, but never dealt with him directly. "The interview could open up a lot of sympathy for him, but he has to be concerned about a fear of litigation from former sexual partners. You don't take that lightly."
Bragman says he was informed that Sheen "is getting treatment, and a lot of people in his life know about it."
TMZ adds that Sheen's reveal may have been hastened by threat of legal action:
We're told he's known about his status for more than a year and he kept a lid on the information.
We're told things changed when Charlie confided in several friends he thought were confidants … it turned out they weren't, and spread the word he was HIV positive.
That led to several of Charlie's former partners contacting him and threatening a lawsuit because they were unaware of his status when they had interaction with him. Our sources say Charlie settled several of the cases and, in return for money, got confidentiality agreements.
We're told one of the settlements occurred late last month.
Back in 2011, Sheen appeared on the Today show to try and do damage control regarding his public meltdown surrounding his ouster from the CBS sitcom Two and a Half Men.