A New York man charged with assault and attempted assault against a gay couple has said his only crime "was to be a man of color wrongly accused by his attacker, a privileged white man."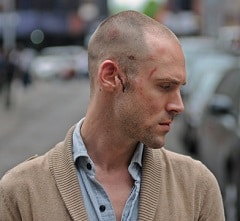 41-year-old Bayna-Lehkiem El-Amin (above) was accused of attacking Jonathan Snipes (right) and Ethan York-Adams at a Dallas BBQ in Chelsea on May 5. Now, El-Amin has filed a countersuit.
El-Amin  says that when he intervened in an argument between Snipes and York-Adams that was interrupting other diners, Snipes "viciously struck" him on the head with a "heavy, blunt weapon" that cut open El-Amin's head.
He also alleges that although he tried to walk away, Snipes "continued his attack by grabbing at plaintiff's legs and attempting to claw at plaintiff's genitals" while York-Adams "joined in the attack by pushing plaintiff onto his injured back."
At this point, El-Amin said, he was "left with no choice" but to throw a chair at his attackers, "knocking them to the ground and giving plaintiff time safely to retreat from his attackers by walking out of the restaurant."
The complaint also alleges that a friend of Snipes' doctored footage of the attack in order to portray El-Amin as the attacker.
El-Amin is seeking "damages for assault and battery against Snipes and York-Adams, negligence against Dallas BBQ, and defamation against all defendants, including Sharef, Friedlander and Meyers (three friends of Snipes and York-Adams who assisted in creating and distributing the well-known viral video of El-Amin hitting Snipes with a chair)."
Watch a CBS report and footage of the attack below.