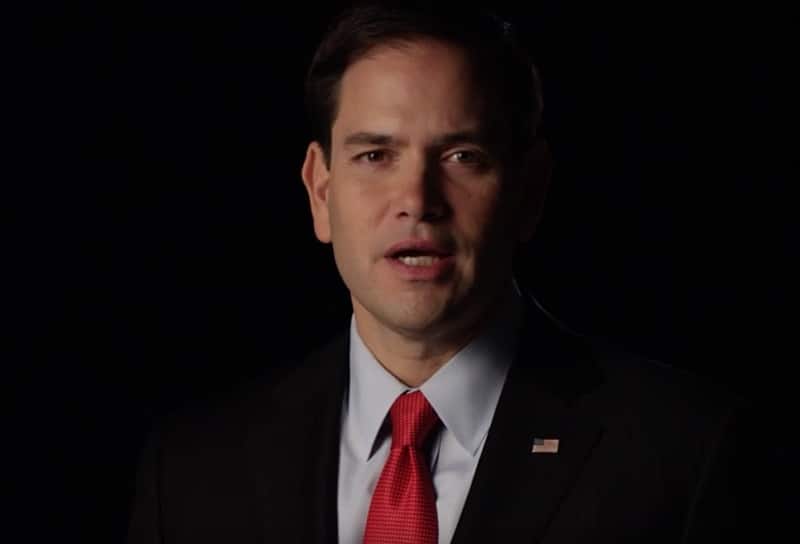 Republican presidential wannabe Marco Rubio has said he aims to "fix" the Supreme Court decision legalizing same-sex marriage "because we think it's wrong."
Despite previously announcing the decision to be the law of the land, he is now committed to having it reversed.
Speaking on the Christian Broadcasting Network, Rubio compared the gay marriage ruling to Roe v. Wade, saying just because the decision is law "doesn't mean that we don't aspire to fix it because we think it's wrong."
He added that when biblical teachings conflict with civil authorities, "god's rule always wins."
"In essence, if we are ever ordered by a government authority to personally violate and sin, violate God's law and sin, if we're ordered to stop preaching the gospel, if we're ordered to perform a same-sex marriage as someone presiding over it, we are called to ignore that. We cannot abide by that because government is compelling us to sin."
Referring to Kim Davis, the Kentucky clerk who was jailed for refusing to issue marriage licenses to same-sex couples, Rubio said:
"If you live in a society where the government creates an avenue and a way for you to peacefully change the law, then you're called on to participate in that process to try to change it, not ignoring it, but trying to change the law.
"I continue to believe that marriage law should be between one man and one woman, and that the proper place for that to be decided is at the state level, where marriage has always been regulated, not by the U.S. Supreme Court, and not by the federal government."
In May, Rubio said that gay marriage is "a real and present danger" for Christians.