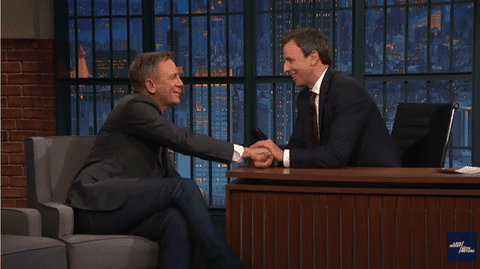 Daniel Craig was on Late Night with Seth Meyers last night talking about his new James Bond film Spectre, and Meyers had a word of warning for Craig about what to expect in his upcoming film roles. Meyers suggested that playing Mr. Bond may have skewed his impression about sex in movies.
Said Meyers,
"I feel like you're going to look at scripts and you're going to say, 'I think it's really weird cuz in this first scene when I meet a lady she doesn't sleep with me right away.' Cuz I feel like, James Bond, ladies sleep with him right away."
The conversation then turned from Craig's love scenes with ladies to the possibility of one with a man:
CRAIG: Do you think I'm going to find that difficult? […] What if I'm doing a movie about, I'm having a relationship with a guy? That might happen.
MEYERS: That might happen. Right away, first scene.
Meyers then turned on his Bond girl impression which left Craig a bit flummoxed.
Watch below: