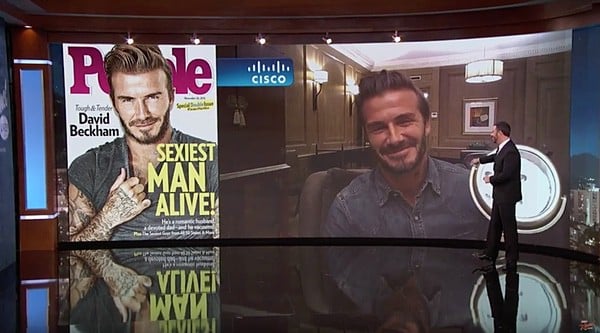 David Beckham has been named People magazine's 'Sexiest Man Alive'. Jimmy Kimmel revealed the choice on his show last night and made audience members ask questions of the mystery man to figure out the pick.
Watch:
Said Beckham to People:
"It's a huge honor. And I'm very pleased to accept. I mean I like to wear nice clothes and nice suits and look and feel good, but I don't ever think of myself that way."
People also created a 'time machine' so you can watch 30 years of Beckham beauty:
Beckham is traveling the world as a UNICEF Goodwill ambassador, playing football games on seven continents to raise awareness of the aide organization and has visited Papua New Guinea, Nepal, and Djibouti so far. The trip, which is being shot for a BBC documentary, also include stops in Buenos Aires, Miami and Antarctica, where he will play football with locals from each community.