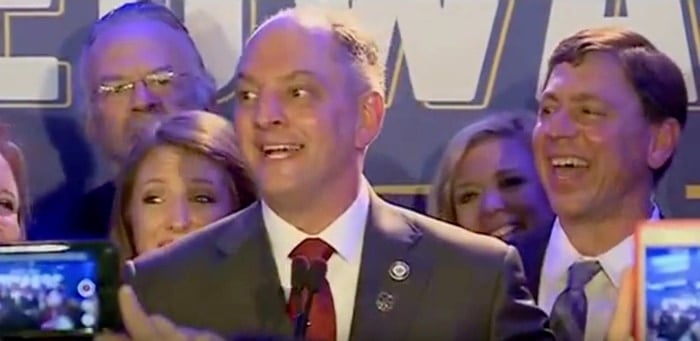 Democratic State Rep. John Bel Edwards defeated ultra-conservative Republican Senator David Vitter in an upset that will make him the first Democratic governor in the Deep South in eight years.
Edwards came out of nowhere to take down a Republican candidate once seen as unbeatable in a solidly Red State. Preliminary election results show Edwards topped Vitter by 12 points, a resounding victory.
Edwards will replace Governor Bobby Jindal:
Gov. Bobby Jindal's unpopularity in Louisiana may have hurt Vitter's campaign. Recent polling shows Louisiana voters are tired of Jindal, and could be looking for a big change in the Governor's Mansion. Vitter and Jindal don't get along, but they share many of the same views on public policy.
"Clearly, the voters wanted a change," said state Treasurer John Kennedy, a Republican who campaigned relentlessly for Vitter. Democrats may paint Edwards' victory as the resurgence of the party in Louisiana, but experts warn against jumping to that conclusion. Vitter may have lost, but that doesn't mean most other Republicans would have.
DailyKos adds:
Edwards ran an instantly classic ad a few weeks ago arguing that Vitter "answered a prostitute's call minutes after he skipped a vote honoring 28 soldiers who gave their lives in defense of our freedom," thereby choosing "prostitutes over patriots." Edwards and his allies also tied Vitter to unpopular outgoing Gov. Bobby Jindal. Vitter tried to exploit last week's terrorist attack in Paris, but it was not enough.
Vitter still has one year left in his Senate term and the option to run again. However, after this humiliating defeat, it's hard to see him winning major elected office again. Vitter started this year as the governor-in-waiting, and ends it as a cautionary tale that will be recounted for a long time to come
https://www.youtube.com/watch?v=LZQVCFVVVE0
Said Edwards in his victory speech:
"This election shows us that the people of Louisiana in a time of deep cynicism about our politics, and also about our future, that the people have chosen hope over scorn, over negativity. I did not create this breeze of hope that's rolling across our beautiful and blessed state. But I did catch it. This breeze has its roots in the songs of the Louisiana Hayride, the food of our cajun ancestors, the spirituals of our African-American churches and the faith of our Italian … strawberry farmers, and the energy of Native Americans and our Hispanic immigrants. No I didn't start the breeze of hope, but I did catch it. And so did you. That's why we're here tonight. We all caught that breeze. The people of Louisiana have chosen to believe we can do better, and by doing better we will be better. And I commit to you we will be better as a result of tonight."
Watch:
https://www.youtube.com/watch?v=pxJzdLXxagU