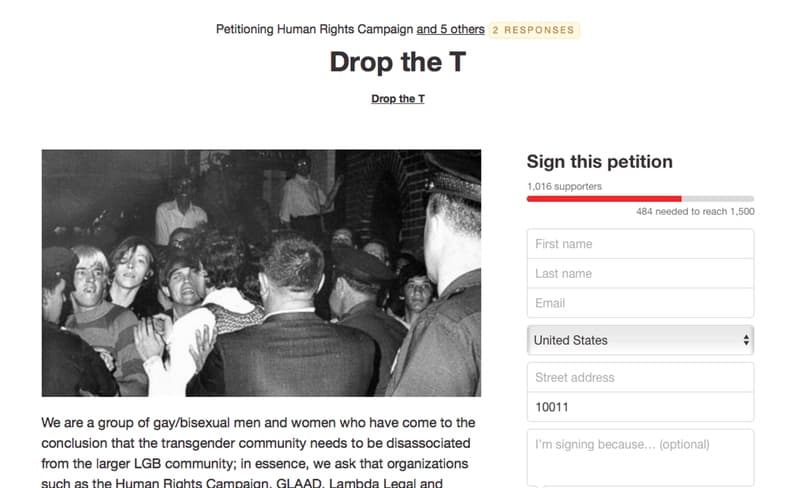 More than 1,000 people have signed an outrageous online petition posted by an anonymous coward to drop transgender people from the LGBT movement, calling on media outlets and LGBT organizations like GLAAD, the Human Rights Campaign, and Lambda Legal to stop representing the transgender community, calling its goals "regressive and actually hostile to the goals of women and gay men."
Both HRC and GLAAD have responded, and you can read their responses below.
The petition, which claims not to 'advocate intolerance or prejudice against the transgender community', actually pushes the disturbing false narratives of right-wing conservatives:
• The vilification and harassment of women and gay/lesbian individuals who openly express disagreement with the trans ideology; a simple disagreement over an issue can result in responses that range from insults ("transphobic bigot") to threats of physical harm (often, in the case of women, rape) and even death; the harassment by the transgender community of prominent individuals ranging from iconic gay rights activist/drag queen RuPaul and legendary feminist Germaine Greer has been particularly loathsome.
• The infringement of the rights of individuals, particularly women, to perform normal everyday activities in traditional safe spaces based on sex; this is most pernicious in the case of men claiming to be transgender demanding access to bathrooms, locker rooms, women's shelters and other such spaces reserved for women.
• The appropriation and re-writing of gay and lesbian history and culture, most notably attempting to re-cast the majority gay white men who participated in the Stonewall riots as transgender, specifically casting as "transgender" men who adopted feminine attire but still identified as men (they called themselves transvestites, which is not the same as the modern transgender identity); particularly frustrating was the fact that media outlets such as The Advocate, Out and Huff Post Gay Voices, who should have been the first to point out the fallacy of this notion, actually went along with the lie.
• Most troubling, by persuading parents and health professionals to diagnose children as young as four as transgender, despite considerable research that shows that more than 90 percent of children who express "gender dysphoria" at a young age grow out of it by adolescence and, in most cases, grow up to be well-adjusted gay men and women; ideologically, it runs counter to traditional LGB and feminist philosophy – whereas feminists and gay men/women advocate for expanding and re-defining gender concepts, the trans movement is regressive, insisting upon re-asserting and codifying classic gender concepts of what is masculine and what is feminine.
Both GLAAD's President and the head of HRC, Chad Griffin, have responded.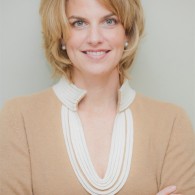 Said GLAAD CEO & President Sarah Kate Ellis:
"GLAAD stands firmly with the transgender community and unequivocally rejects the outrageous and destructive idea that the 'T' be removed from LGBT. For decades, transgender people have worked alongside lesbian, gay, and bisexual people to advance equality for everyone, often leading the way in the movement for full equality and acceptance. Many trans people are also lesbian, gay, and bisexual — they are an inextricable and invaluable part of the LGB community. At a time when anti-LGBT activists continue to attack the basic rights and protections essential to all of our lives, we must stand together, rather than succumb to the ruin of divisiveness."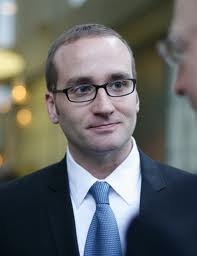 Said Griffin:
"This is unequivocally wrong. The hate that killed Matthew Shepard killed Zella Ziona. The bullies at school aren't just harassing the gay kids, they're harassing the transgender kids. The parents who could provide loving homes for the 400,000 children in foster care aren't only lesbian parents, or gay parents, they're bisexual parents and transgender parents. This idea that we are somehow separate and apart is patently untrue. We are one movement, stronger in our unity. We are one community, period. And the Human Rights Campaign will not be done working until equality reaches every single one of us."