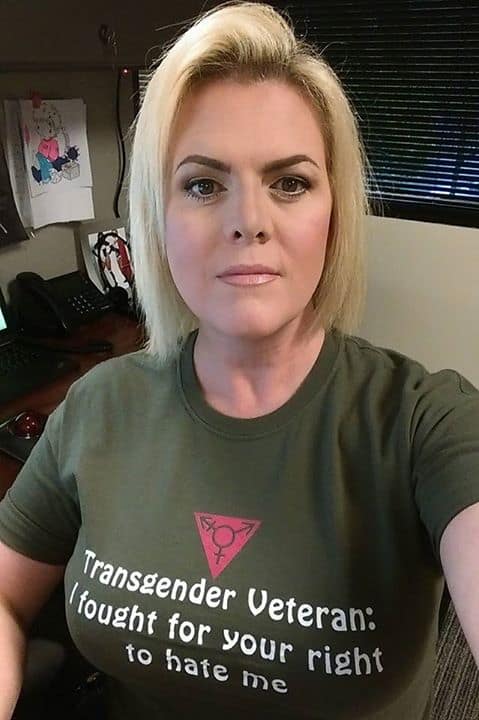 More than 8.600 people have shared a photo posted to Facebook by Carla Lewis, a veteran discharged by the military for being transgender. In the photo, Lewis wears a "casual Friday t-shirt" highlighting the discrimination of trans service members.
Lewis responded to the popularity of her post in a follow-up post:
Okay…today's Facebook as been INSANE. Over 3200 SHARES? In what world do that many people care about my t-shirt or that I'm a vet that was discharged for being trans? Hundreds of friend requests and messages…thousands of notifications. It's like my phone no longer belongs to me.
Crazy I tell you! Crazy.
Oh, and the cyber world apparently loves my "fleek" brows.
Lewis also told the HuffPost:
"Here's the message I want others to glean from this shirt: Whenever a citizen volunteers for the armed services they immediately, at the very moment, make the conscious decision that they will sacrifice their life if it means securing freedom for their fellow citizens. Every right, every privilege enjoyed by an American citizen is paid with the currency of soldiers' lives. Even if the rights and privileges secured enable others to lobby against me and my transgender brothers and sisters. Freedom matters to us."
The Pentagon announced plans over the summer to end its ban on transgender service in the military in May 2016.